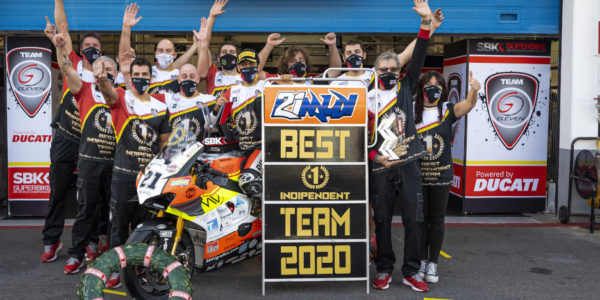 BEST INDIPENDENT RIDER, BEST INDIPENDENT TEAM!
WE MADE IT!!!
Un unbelievable 2020 season, to crown a dream, reached with passion and dedication; on the Estoril track Michael Rinaldi graduated as Best Independent Rider in Superpole Race, while Go Eleven is Best Independent Team 2020 with the sixth place in Race two!
A day full of tension saw the rider from Sant'arcangelo di Romagna start from fifth position in the Superpole Race. A great fight from the first laps for the Top Nine, a result that establishes the starting grid for Race 2. Rinaldi fights, exchanges positions several times with Haslam, Fores and Bautista, finishing ninth in a difficult format for him. A good performance that guarantees him to be mathematically Best Independent Rider! Dedicated T-shirt and number "1" on the fairing celebrate the 24 year old from Romagna's first WorldSBK title!
Superpole Race:
P 1   T. Razgatlioglu   16'12.131
P 2   G. Gerloff   +1.928
P 3   M. Van Der Mark   + 2.940
…
P 9   M. Rinaldi   + 12.293
Race 2 starts with a clear goal in mind: to win the Team independent championship. From ninth position on the grid he manages to defend himself at the first corner and sets his race pace. On new tyres, however, Michael struggled a bit and was passed by some riders finishing close to the Top Ten. From the middle of the race onwards, he improved his pace so much that he did the fastest lap on the last lap, closing the gap from the group in front and the battle lights on. Beautiful and spectacular battle with Folger, Fores and Haslam, which sees the Italian rider cross the finish line in sixth place. Top Independent in Race 2, and mathematically achieved our goal: Go Eleven is the Best Independent Team 2020!
Race 2:
P 1   C. Davies   34'07.368
P 2   S. Redding   + 1.951
P 3   T. Razgatlioglu   +2.556
…
P 6   M. Rinaldi   + 20.277
Michael, The Go Eleven Team can only thank you for what you gave us all the season long, for this incredible 2020 each of us will carry inside forever. We had fun, we said a lot of bullshit together, we won together, we hit our goals. You are a wonderful person, and you have a unique talent … good luck for the future!
Michael Rinaldi (Rider):
"Last race, it was difficult this weekend, but we made up for it well. In the Superpole Race we won the Best Independent Rider, but this afternoon I wanted to say goodbye to my team the way they deserved. I worked hard and we also won the Best Independent Team! It has been a fantastic season, full of good memories, where I have improved both on a human and riding level. I wish the best to this team that has given me so much and I can't wait for 2021, a great season awaits me, I can't wait to start it!"
Denis Sacchetti (Team Manager):
"It's a really exciting day for us, at the beginning of the season we didn't think we would get so much, we hoped, we dreamed of it, but winning the Best Independent Team, the Best Independent Rider, the podiums and even winning a race, is something great …. it is a magic that was achieved only with the hard work of each component of the box, Filippo Burgatti, Simone Corsini, Fabio Pasqualini, Daniele Cafaro, Alex Cionna, Alberto Amadori, Pierluigi Pieroni, Elia Ramello, Gianni Ramello, Luciana Fornaseri and …. all done with a great champion such as Michael Ruben Rinaldi! 2020 sees our name written in the history of Worldsbk, and it will always remain in the hearts of each of us. Personally, I wish Michael a future at the height of his dreams.
Thanks Go Eleven!"
Sunday Pictures: CLICK HERE
Ramello Elia