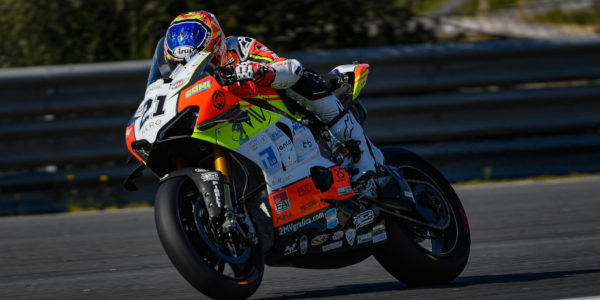 FRIDAY HARD DAY; FREE PRACTICES 1-2 ARE OVER AT ESTORIL!
The Friday from the new entry Estoril track, it turned out to be particular and interesting. Many riders found themselves racing on the Portuguese ups and downs for the first time ever. Despite the almost ideal conditions, with temperatures around 18 degrees and a light wind that did not influenced riders, on a new circuit the cards were reshuffled, with some surprises in the top positions compared to the last rounds.
Michael Ruben Rinaldi used the first session of the morning to learn the lines, and understand the ideal trajectories to push the Ducati V4-R to the maximum. He faced some set-up difficulties, complaining of little rear grip and little feeling under braking. The track here is spectacular, but strange to understand, with many different sectors: fast corners, a long straight, hard braking from first gear and quick changes of direction. In FP 1 the number 21 ride on race tyres, managing to improve at the end, finishing in 1.38.857.
Free Practices 1:
P 1   S. Redding   1.37.181
P 2   G. Gerloff   + 0.438
P 3   L. Baz   + 0.499
…
P 15   M. Rinaldi   +1.676 
For the afternoon session the Go Eleven technicians changed the geometry of the bike to face Michael's requests, with the aim of gaining grip. The start of the session, with a train of SC0 used since the morning, saw the rider from Romagna immediately improve his laptime, showing some small improvements. With new tyres, however, the feeling is still not great and you can't make the most of it. In the middle of the session, Rinaldi tried the softer compound, trying to understand the differences in compounds in view of both the Superpole and the race. Unfortunately it did not give the hoped-for improvements, even if it managed to set a low 38 with the SCX, which placed him close to the top ten. The riders are all very close, with narrow gaps, so tomorrow it won't take much to climb the rankings. Between today's evening and Saturday morning, the staff will work in a more invasive way on the Ducati V4-R to give greater support to Michael's riding style.
Time is short, but there is room for improvement!
Free Practices 2:
P 1   S. Redding   1.36.886
P 2   T. Razgatlioglu   + 0.089
P 3   L. Baz   +0.198
…
P 13   M. Rinaldi   +1.355
Michael Rinaldi (Rider):
"It was a very difficult day, unfortunately the sensations on the bike aren't good and I can't ride as I normally do. This afternoon we improved the time compared to this morning, but still not the feeling with the bike. Now let's look closely at the data, we try to understand how and where to improve, and we hope to find a good solution for tomorrow. We are not so far from the top, so if we improve a little bit we can take a good step forward. Tomorrow morning we only have one free practice to test the changes, so we have to do a great job tonight. The track is particular, I've never been here before, and it's normal not to be 100% now, but we already have a race tomorrow. "
Ramello Elia