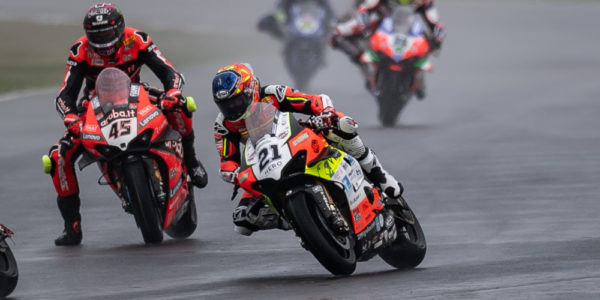 MICHAEL RACES INTELLIGENTLY, BRINGING HOME POINTS AND EXPERIENCE!
After a lot of rain yesterday, guess what conditions the WorldSBK riders face today?  Rain, wet track, and worsening conditions during the race.
In FP 3 the temperature was truly winter, about seven degrees in the air. Michael entered the track cautiously, trying to check if everything was okay on the bike ahead of Superpole, but without taking unnecessary risks. At the end of the session he complained of rear grip problems, probably due to cold weather conditions and the harder Rain compound, not perfect for the amount of water on the track.
Free Practice 3:
P 1   L. Baz   1.48.707
P 2   A. Lowes   + 0.420
P 3   G. Gerloff   + 0.741
…
P 13   M. Rinaldi   + 4.617
In Superpole the track conditions are much better, with the trajectory line that dries lap after lap and offers better grip. Michael completes the whole session on the same Rain tyres, gaining more confidence and improving his lap time. He finished in seventh position, conquering the third row for Race 1 and Superpole Race. The work focuses on electronics; a different configuration could perhaps have given some advantages, but the important thing was to have a good starting position for the races.
Superpole:
P 1   E. Laverty   1.48.644
P 2   T. Sykes   + 0.142
P 3   J. Rea   + 0.184
…
P 7   M. Rinaldi   + 0.834
Shortly before Race 1 the clouds over the Circuit de Nevers-Magny Cours thicken and the track is once again very wet. The number 21 sprints well at the start, then at the first corner the two BMWs fall a few meters in front of him and he is forced to close the gas slightly, losing a couple of positions. In the first laps he tries to adapt to the conditions, and gets into battle with Toprak and Haslam. As race pace he is not very fast and throughout the race he tries to recover on the Yamaha and Honda riders. The track gradually becomes more dangerous with several protagonists on the ground. Seventh position under the checkered flag, not an excellent race, but the important thing today was to defend oneself and take home important points, both for the Championship and for the Best Independent Team standings!
Race 1:
P 1   J. Rea   38'13.222
P 2   L. Baz   + 3.342
P 3   A. Lowes   + 8.707
…
P 7   M. Rinaldi   + 23.253
During the night, the staff will work to improve some problems faced in the race, especially in terms of electronics and engine braking. For tomorrow (in which weather uncertainty is still expected) it will be essential to give Michael a bike as constant as possible during the race length. Let's see what happens on Sunday in France!
Michael Rinaldi (Rider):
"It wasn't a great race for us, because after a good start, I suffered with the electronics. So, I had to try to understand what the bike would do in each corner: when that's the case you can't attack but you can only defend yourself by trying to bring the bike home. Honestly, I'm a little upset because we have been chasing the same problem since yesterday and we couldn't solve it in the race. Now it's important to try to understand what's wrong and be back in the game tomorrow. I think we have the speed, but we cannot show it for this problem. Tomorrow will be another uncertain day and we will do our best to improve our position!"
Saturday pictures (by Luca Gorini): CLICK HERE
Ramello Elia