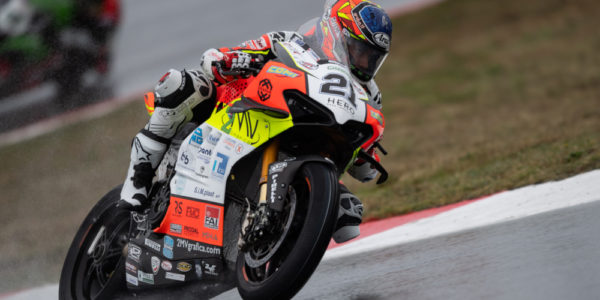 WET FREE PRACTICES, RINALDI IS STILL AT THE TOP!
Cold and rain: the weather at Magny-Cours in October is almost never mild, and today all the sessions were in wet conditions.
In FP 1 Michael Ruben Rinaldi entered cautiously to become familiar with the track and to understand the conditions of the track and the new asphalt. In those conditions, making a mistake in the first few minutes would have been easy, with the risk of compromising the whole day. In the final minutes he improves lap after lap, getting closer and closer to the apparent undisputed leader Johnny Rea. On the last lap he is in line to enter the top three, but a little crash at the penultimate corner does not allow him to complete the lap. Rider ok who still manages to come back to the box, quite satisfied.
Free Practice 1:
P 1    J. Rea   1.49.356
P 2    L. Baz   +1.351
P 3    T. Sykes   +1.639
…
P 8    M. Rinaldi   +2.982
FP 2 starts with more water on the track than in the morning. The riders starts setting much higher times, but as the minutes pass the rain drops in intensity and many manage to lower their Bests. Towards the middle of the round, the Go Eleven rider feels the right feeling and completes two excellent laps that take him to the lead. Just enough time for a quick pit stop and some changes to better adapt to the changed conditions of the track, and it's time attack again! Rinaldi is constantly improving lap after lap, but it is with the last two laps that he manages to make a remarkable step; he ends behind Rea in third position a few thousandths from the leader. Truly a convincing performance on a wet track, proving to be at ease in all weather conditions. Sun is expected for tomorrow until early afternoon, with a worsening in the race time. In the weather uncertainty, there is one certainty: Michael Rinaldi is always in the WorldSBK elite!
Free Practices 2:
P 1   G. Gerloff   1.48.830
P 2   J. Rea   +0.015
P 3   M. Rinaldi   +0.084
Michael Rinaldi (Rider):
"It was a positive day for us; we tried to find the right set-up  on the bike in wet track conditions and we got it. This afternoon we improved both the feeling and the lap time. Finishing in the top 3 of the day is very positive. Tomorrow there could be mixed conditions, so it will be another story. We will try to focus on ourselves and give our best!"
Friday pictures (by Luca Gorini): CLICK HERE
Ramello Elia