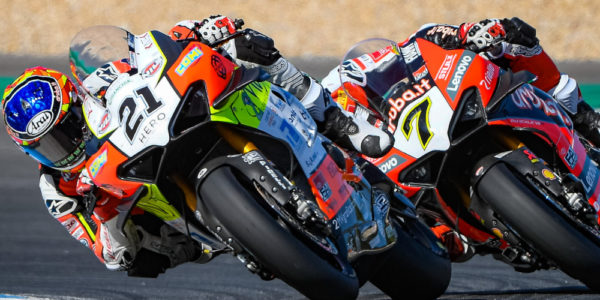 RINALDI RAISES THE WEEKEND UP, AND OPENS THE SHOW IN RACE 1!
Go Eleven and Michael Ruben Rinaldi were able to raise their Saturday, on the Estoril track. After great difficulties shown in free practices, the staff was able to work calmly and methodically, without panicking, managing to raise, at least for the moment, in a particular weekend..
The FP 3 were fundamental to understand the way forward. In the morning the V4-R Go Eleven entered the track with a revolutionary set-up compared to Friday. Michael, however, did not feel the advantages, complaining of the same problems in braking. This indicated the direction to go.
Free Practices 3:
P 1   S. Redding   1.36.770
P 2   T. Razgatlioglu   + 0.102
P 3   J. Rea   + 0.216
…
P 15    M. Rinaldi   + 1.779
In Superpole Michael immediately entered with determination, showing that he had found the right way to face the particular Portuguese track. In a session full of crashes, with Redding and Rea both on the ground in the first few minutes, the number 21 entered the top ten with the race tyre, just over half a second from the lead. Once he found the right pace, the qualifying tyre allowed him to significantly lower his best, finishing in fifth position. A really good step forward and an almost unexpected result until the morning. Second row conquered both for Race 1 and for the Superpole Race.
Superpole:
P 1   T. Razgatlioglu   1.36.154
P 2   L. Haslam   + 0.702
P 3   G. Gerloff   + 0.711
…
P 5   M. Rinaldi   + 0.757
Race 1, the first race of the weekend at Estoril, begins with some doubts for the Go Eleven rider, because the last ten laps, the ones where the difference is made, we hadn't had the opportunity to test it before. At the green light, Michael starts strong, immediately overtaking a row. At the first corner he is second, in the between the Yamahas of Gerloff and Toprak. He holds up in high rankings for a few laps, but then the first four manage to fast the pace little by little. The battle for the Top 5 is unleashed with many riders in the group. Bautista, Haslam, Lowes, Baz and Michael swap positions several times, giving a show; at the end Haslam, Lowes and Michael manage to stretch, but the Italian missed a bit to try to overtake them. Excellent seventh position conquered, other points brought home, defending both the Best Independent Rider and the Team Ranking!
Race 1:
P 1   T. Razgatlioglu   34'13.229
P 2   C. Davies    + 3.039
P 3   G. Gerloff    + 4.220
…
P 7   M. Rinaldi   + 18.206
The sincere and heartfelt congratulations from all the Go Eleven Team go to Jonathan Rea, six times in a row World Superbike Champion. An immense honor to share the track with the strongest WorldSBK rider of all time!
Michael Rinaldi (Rider):
"After yesterday's sessions, we knew it was going to be a tough weekend, but I'm very satisfied in how we approached this race. We recovered from the difficulties, working well, trying to understand the areas in which to improve step by step, without making just one fast lap, that is completely useless. Today we had a good race, I could have been faster in the first part of the race, but it helped me to understand many things. It is a new track for us and there are still areas in which to improve. I'm sure that we can take yet another step forward tomorrow."
Denis Sacchetti (Team Manager):
"This track is totally new for us, as beautiful as it is particular and difficult. We didn't expect to face so many difficulties yesterday, but I'm really happy for the great work of the team that was able to react and change the weekend. Michael did not have the feeling in the race to be able to fight for the podium, and he was able to manage himself well. This is to underline how mature he is and ready for the jump that awaits him next year! "
Saturday Pictures: CLICK HERE
Ramello Elia