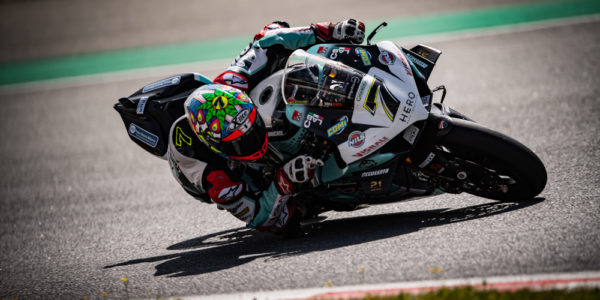 FIVE MONTHS FROM THE LAST DANCE, CHAZ IS BACK SHOWING AN IMPRESSIVE FEELING!
Estoril 2020 – Barcelona 2021; 5 long months without going on track, after 8 hours of testing and over 60 laps, Chaz is in excellent shape, having quick laptimes easily. Welcome Back Chaz!
The two-day test at Montmelò opened with a sunny day and almost ideal air and asphalt temperatures. The Welsh rider, in the morning, after only a few laps, was already close to the top 5. It should also be emphasized his feedbacks regarding how easily he rides and finds a good lap time. The work in the Go Eleven box continued with the aim of getting to know the riding characteristics of the number 7 and its needs on the 2021 Panigale V4R SBK. Session after session, with used tyres too, Chaz was at ease, establishing an excellent feeling with the Team members. It is beautiful and exciting to see a rider of his caliber make himself available to the technicians, explain his working method and his riding characteristics with great calm. Clearly today's goal was to find the feeling and sensation of the last season finale, but, looking at the laptimes, you can understand the good result obtained in race configuration: 1.41.775, less than a second from the first, Jonathan Rea in 1.40.793.
Tomorrow the protagonists of WorldSBK 2021 will be in action again, an additional 8 hours of adrenaline and entertainment from the Montmelò Circuit!
Day 1 Results:
P 1   J. Rea   1.40.793
P 2   L. Haslam   + 0.107
P 3   G. Gerloff   + 0.117
…
P 9   C. Davies   + 0.982
Denis Sacchetti (Team Manager):
"When at the end of the first day of testing, everyone is happy, the rider is calm and you can have dinner with a smile, you can only be satisfied! The times or the rankings do not matter, it was important for us to get back on track, resume the automatisms of the garage and the track, and start working with our rider. Chaz impressed me for the tranquility and availability, he is a top rider but he laughs and jokes with everyone and knows how to give value to every single member of the staff"
Chaz Davies (Rider):
"It has been a really positive first day on track! Obviously, after five months off, I expected to feel a bit rusty, but honestly my first exit it was like I have never been away. So, I felt comfortable immediately and I had to tell myself not to push too hard too soon because the mind was in a sort of race pace mode, but the body I think it is a little bit behind over the automated sort of reaction. So just keep calm, but I am really happy with the day, I think it was really positive and I was very surprised that my best lap came quite easy. I feel like I can improve quite easily, it was a really nice surprise for me. The main objective was just to ride the bike and to work and learn the new atmosphere and my new crew, from PJ the Crewchief, to all the other Team members. The goal was just to work together to understand everybody's way of working, I think we will have a good season ahead of us!"
Morning session pics (By Luca Gorini): CLICK HERE
Afternoon session pics (By Luca Gorini): CLICK HERE