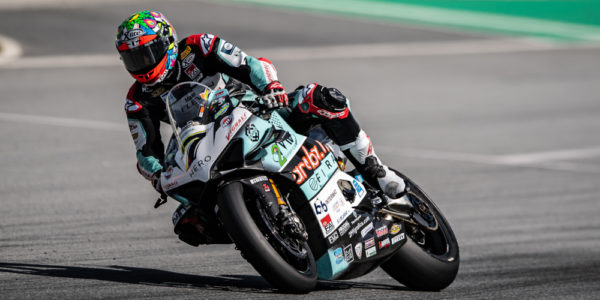 CHAZ CONCLUDES A SATISFYING TWO DAYS TEST ON THE NEW DUCATI V4RS-2021!
#CatalanTest ends with a satisfying job by the Welsh rider on the light blue Ducati Go Eleven!
Chaz, during the morning of the second day, immediately managed to improve his feeling with the bike, having an excellent feedback especially on the front. Almost four tenths of pace better than on day one, it shows the improvement. Davies, despite the long break, was really in shape and strong, returning ready and determined, as he had left 2020. Up to the middle of the session, comparison tests were carried out in the box and on the track, testing small changes on geometry and electronics. In the late afternoon, however, the focus moved to the starting practice; several attempts with new ideas for electronic setting on the launch control have provided positive feedback looking the season ahead. Furthermore, the number seven obtained the best times with the SC0 race tyre, half a second from the head until a few minutes from the end; many protagonists then improved with the performance qualifying tyre.
Team Go Eleven and Chaz Davies are at their first outing of the season and the first signs have been more than encouraging. In the garage you can already breathe a familiar and relaxed air, aided by the serenity that infuses the rider. It can therefore be said that the primary objective has been achieved. Next stop, Aragon test on April 12-13!
Day 2 Results:
P 1   J. Rea   1.40.264
P 2   L. Haslam   + 0.179
P 3   G. Gerloff   + 0.233
…
P 9   C. Davies   + 1.053
Denis Sacchetti (Team Manager):
"Another positive day, we did several tests, especially on electronics, aimed at collecting data on which we can work in the coming weeks and in view of the next Aragon tests. I must admit that it was a very interesting two days and we go back to home certainly more relaxed. It's like the first date with the girl you've always dreamed of, we broke the ice and now we can enjoy it!"
Chaz Davies (Rider):
"It has been a pretty productive day! This morning we started of a good bike, it felt immediately good. Then we started working a little bit on the second bike which has a couple of different parts on it and I am just trying to understand if there is something that can help us for the season. I did a bit of jumping around between bike 1 and bike 2. We also did a lot of working on the electronics, trying to give me more feel with the engine. That was quite successful, but we just started the work and we collected important data. In the next week the most important thing is to understand what is the bike doing with the electronic changes and try to develop that for Aragon test. I think it was a successful first test; after not having ridden for five months, my expectations were quite modest and I had no target apart to enjoy the two days and ride again. We did that! Next test it will be an opportunity for everybody to work together and refind things that we were working on!"
Day 2 pics (By Luca Gorini): CLICK HERE