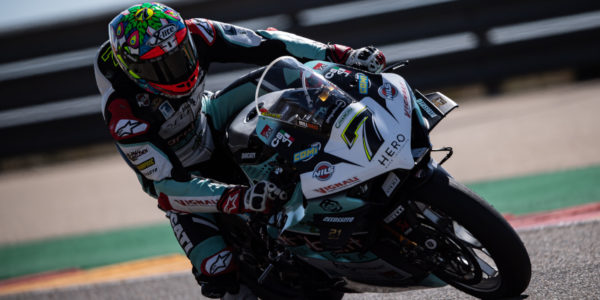 DAY – 2, CHAZ DAVIES LEAVES ARAGON HAPPY WITH THE PROGRESS MADE!
The second day from Motorland Aragon is characterized by good weather and warm temperatures compared to day 1. The Superbike riders manage to set excellent laptimes already in the morning.
Chaz Davies, after the best time from yesterday, immediately confirmed his speed, riding below the wall of 50 at the end of the first session of the morning. The Welshman and Michael Rinaldi clash (from a distance) with fast laps, with the Italian finishing a few cents in front. The work done by Go Eleven, however, pays off and the number seven proves satisfied and convinced of the progress. The main test of the morning session is the use of the new "wing" Brembo calipers, which seem to have provided a good feeling for the rider. In the afternoon the work focuses on the soft tyres. Unfortunately, the feeling with the qualifying tyre is still not great, but we have seen a few steps forward. The work of the Team will focus on this last point in the next tests before the start of the season. The pace and confidence in the race configuration, however, are really amazing, so much so that Chaz manages to achieve fast laptimes with consistency and ease, without pushing over the limit.
The first race of the season is getting closer and closer, there are only two days of testing left, May 5th and 6th on the new entry track in the WorldSBK calendar, Navarra. There it will be essential to know the lines in what will be a real first time for all riders!
Day 2 Results:
P 1   S. Redding   1.48.780
P 2   M. Rinaldi    + 0.425
P 3   G. Gerloff    + 0.659
P 4   C. Davies    +0.830
Denis Sacchetti (Team Manager):
"I'm happy with the result of this two-day test here in Aragon. If we consider that during winter, due to bad weather and Covid, we rode three days less than our rivals, our condition is better than I would have expected. The feeling with used tyres is excellent, and we have found new solutions that could give us advantages especially in the race pace. We come back from here calm and motivated, this is important!"
Chaz Davies (Rider):
"Today we had a good continuation from yesterday. It was busy, a very busy day. We had a lot to evaluate and quite a few changes on the bike, some positive some less, but overall I think we have a really clear picture on what's working. I feel like I have a bike I can race now, if we need to race tomorrow I feel like I am ready to do that. That's really positive, today I was comfortable, which is the most important thing. I am happy with the way all the guys have been working. Now let's focus on the next test at Navarra!"
Day 2 pics (By Luca Gorini): CLICK HERE