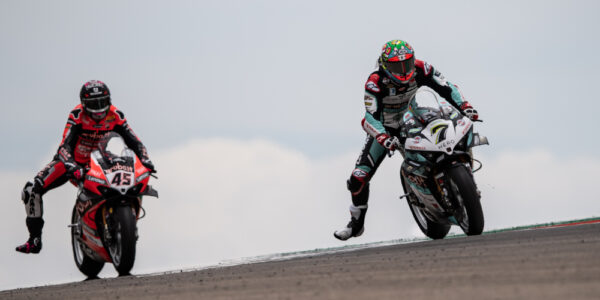 A "FIGHTER" CHAZ DAVIES IN RACE 1, HE ENDS CLOSE TO THE PODIUM!
What a tension!! The first race of the season is an incredible mix of emotions, from the "fear" of making some mistakes, to the hope of starting in the right way and getting a great result. The Saturday of Chaz Davies and Team Go Eleven, at the first appointment together, can be considered positive, looking at the glass half full.
Today begins with much lower temperatures than on Friday, with about 10 degrees lower in the air. In FP 3 it is immediately time for a long run to understand which rear tyre solution to use. A total of fifteen laps while remaining constant at a good pace provide important information to the team.
Free Practice 3:
P 1   T. Razgatlioglu   1.49.695
P 2   S. Redding   +0.001
P 3   A. Lowes   +0.171
…
P 7   C. Davies   +0.629
Superpole is a session as fundamental as it is complicated, at least on paper, for the Welsh rider. In recent years he has found himself forced many times to chase his opponents, rarely managing to improve significantly with the Q tyre. Today, Chaz came in really charged, immediately printing an excellent fourth fastest time with the SCX; back in the pits, he wanted to quickly put on the qualifying tire and without losing time, he immediately got back on track. With the "Q" he was able to improve half a second, confirming himself as one of the fastest on the track in a session that was delicate for him. Fifth time and central box of the second row for Race 1 and Superpole Race!
Superpole:
P 1   J. Rea   1.48.458
P 2   S. Redding   +0.275
P 3   T. Sykes   +0.382
…
P 5   C. Davies   +0.611
Race 1 starts with warmer asphalt temperatures, around 40 degrees, pushing several riders, including Chaz, to choose the rear SCX tyre. A real unknown for the final laps, but provides an advantage in the first part of the race. The number seven has a good start, he manages to defend his position fighting with the Yamahas of Gerloff and Toprak. He then immediately starts chasing the first four, but a small wide in Turn 1, during the battle with the Turkish rider, forces him to loose contact. Past Redding, lap after lap, Chaz maintains an excellent pace, chasing Lowes and Razgatlioglu for second position. At the end of the race, he finds himself struggling with a lack of grip and the Go Eleven rider must give way to Redding for fourth place, thus reaching the fifth finish just a few tenths from the second position. Overall a positive race due to the close gaps, but which leaves a bitter taste; when you chase the podium closely for 18 laps, it's normal to believe until the very end!
Race 1:
P 1   J. Rea   33'24.225
P 2   A. Lowes   +3.965
P 3   T. Razgatlioglu   +4.008
…
P 5   C. Davies   +4.615
Tomorrow there will be two more possibilities to attack the podium, in the evening the Go Eleven staff will try to improve a few small details here and there, to allow Chaz to insert the "light-blue" Ducati Panigale in the positions that matter!
Small, big, honorable mention to Jonathan Rea, who reached 100 victories with today's one; a motorsport legend, a very strong opponent and a champion who continues to write the history of our Championship!
Denis Sacchetti (Team Manager):
"Chaz rode great today in the race, we knew we would have to struggle with tyre and the temperatures were on the limit between choosing the SC0 or the SCX. We are happy because we were in the game, fighting for a second place. A bit of a bitterness remained in the mouth and now we are working to take away that satisfaction tomorrow in the race. I enjoyed seeing Chaz's sliding while entering the corner, he has an incredible style! "
Chaz Davies (Rider):
"It's nice to get the first race of the season done. There is always a lot of anticipations, especially after a long winter. Honestly I was hoping to at least show a will to be able to fight for the podium, but there were few issues preventing me from doing that. We chose the softer race tyre, for some reasons it was probably the right choice, but for others it was the wrong one. The race was won by Johnny, who was on a different tyre, maybe it was not the perfect one, but it could have been a good choice, too. For tomorrow we just have to have a look at weather in the morning and understand if we go on a different way or not. Anyway, it's good to get some solid points and something to build on. We took good infos from the race, looking forward to tomorrow!"
Saturday Pictures by Luca Gorini: CLICK HERE