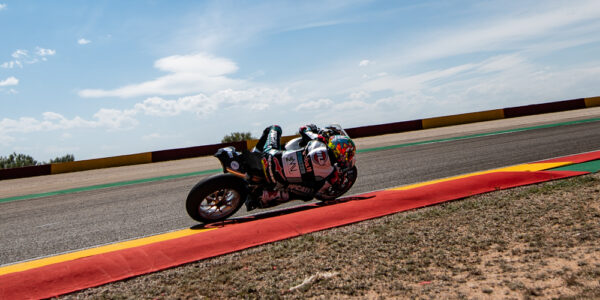 GREAT START IN THE GO ELEVEN BOX, CHAZ DAVIES IS THE FASTEST OF THE AFTERNOON!
Chaz Davies and Team Go Eleven are protagonists on the Motorland Aragon track. Free practice ended in the best possible way for the Welsh rider, who set the best time in the afternoon session, after the second position set in the morning.
A really positive start for the Italian team, which was able to take advantage of the first Friday of the year to create a good set-up that would sew the Panigale V4-RS with the aggressive riding style of the number 7. In the morning the cooler temperatures, around 28 degrees of asphalt, allowed us to set the best times of the day; Chaz stopped the chronometer a few tenths from the Yamaha rider Toprak, immediately finding himself at ease with the track conditions.
Free Practice 1:
P 1   T. Razgatlioglu   1.49.952
P 2   C. Davies   +0.308
P 3   G. Gerloff   +0.490
For the afternoon session, the asphalt reached temperatures close to 50 degrees, slightly changing the values. Chaz Davies started using the used tyre from the morning, to evaluate the drop for the race distance. In the last few minutes, just enough time to change tyres, and it was immediately time to see Chaz back on track. With his usual, spectacular slidings, he took the Ducati Go Eleven in the lead with a time of 1.50.400, about two tenths faster than his rivals.
Free Practice 2:
P 1   C. Davies   1.50.400
P 2   J. Rea   +0.290
P 3   S. Redding   +0.380
The forecasts, both for tomorrow and Sunday, announce a drop in temperatures, which could reshuffle the cards on the table. The choice of the rear tyre will be crucial, which will depend a lot on the weather conditions. We just have to wait impatiently for tomorrow's race and qualifying. By now, however, concluding in the top 3 on Friday gives a further boost for the rest of the weekend!
Tomorrow, 11.10 Superpole and 14.00 the first start of the season!
Denis Sacchetti (Team Manager):
"We couldn't have expected a better start! It's only Friday, and we are only at the first sessions of a long championship, but it was important for both us and the rider to measure ourselves on these results, and to have feedback on the work done in the winter tests. The race will be very tough, because we are at the limit with tyre drop, but the spirit is high and I think the values on the field are the same, so I think we will live really amazing races!"
Chaz Davies (Rider):
"It has been a very positive day, it was the first day of the real season, quite late in May. We have been second quickest in the coolest conditions this morning and quickest this afternoon in the hot. It's a positive start with the Go Eleven team and I have to be happy with the way we worked today; we set a plan yesterday and we followed that. Today the conditions were much hotter than what we tested in, so we have a set-up even in cooler race conditions. It looks like it has gonna be cooler for the next two days, so I am not sure how relevant this afternoon session will be. It could be a good thing, because hotter conditions we have to work with the bike, not fo the tyre, but for the feeling. We are very close, it's just details. We hope to continue the progress tomorrow, I couldn't have asked for a better start of the season!"
Friday Pictures by Luca Gorini: CLICK HERE