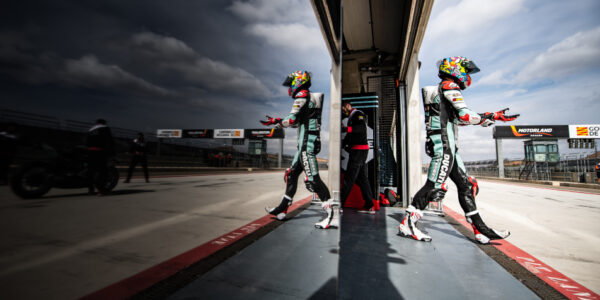 THREE IMPORTANT TEST DAYS DONE, NOW WE ARE READY TO RACE!
The last week of testing, the last week of this long WorldSBK winter break ended with a positive three days for Team Go Eleven! For the occasion, the light-blue Ducati Panigale V4RS took to the track on two different circuits to complete the preparation for the start of the season; first, on 03/04 May at Motorland Aragon, and 06/05 on the new entry Navarra track.
In Aragon, the team concentrated their work on the front of the bike, focusing on the race pace, because at right there at Motorland the 2021 season will rise up. Two complete race simulations, with different types of tyre compounds to better understand the feeling of the rider. There was also the qualifying tyre test, which is important to understand how much to push in the first time attack of the year. The track conditions were not excellent, due to the rain that had fallen in the days before our arrival and the hot temperatures of the asphalt. The Welsh rider was really satisfied with the two days in Aragon, so much so that he has expressed the desire to start competing "seriously" and to compete with the protagonists of the series.
The Navarra circuit appears, for the first time ever, in the Superbike calendar, and for Chaz it was the debut in the hills of northeastern Spain. The day was initially dedicated to getting to know the circuit, very particular, short and with many corners from first gear. The asphalt was not very good, due to the many bumps, but the number 7 seemed satisfied and happy from the beginning with the feeling with the Panigale V4RS. In the afternoon, the team tried to find a good set-up that would allow the rider to feel less the bumps, especially when braking. The goal of the day, however, was to get to know the track, to know its tricks, so as to be prepared for the race to be held in August. The lap times are not significant because, when we return here in about three months, the weather conditions will be very different.
Now the preseason tests are over, in two weeks, from 21 to 23 May, WorldSBK 2021 will finally get underway. The Go Eleven team and its rider Chaz Davies are ready for the start of the season, THE COUNTDOWN IS ON!
Denis Sacchetti (Team Manager):
"At the end of each test day, the harmony of our staff inside the garage improves, and at the same time the feeling of Chaz with his Ducati. Returning to Aragon was the right choice because we were able to conclude the work started in the first two days, and we feel ready for the start of the season. For what concern Navarra, it was important to be there to learn the track and understand its characteristics, it certainly has a very different configuration from all the other circuits in the world championship, and now we have the data to prepare us for the August appointment, even if the temperatures will be very different from those encountered today. We are all very motivated, the desire to get back to the adrenaline of the race is great, we can't wait to get to Aragon!"
Chaz Davies (Rider):
"These three days have been really really positive, I am very happy to have had the opportunity to be back to Aragon. Thanks to the Go Eleven Team for making that happen. It was good for us to work together again as a team for a couple more days on track and obviously to get a little bit more data ahead of the first race there in a couple of weeks. That was really positive! Then we moved to Navarra, it was really important to get in contact with this new circuit. It's a really bumpy and narrow one, but the layout is quite good, I enjoyed it. We had no issues with weather, it has been a good training; in preparation for the season there is nothing quite like riding the Superbike. Overall I feel in a good place, but to be honest, I am ready to finish testing now and go to the first race now. The next time we will be on track there will be a short term target and that's my favourite conditions!"
Aragon pics (by Luca Gorini): CLICK HERE
Navarra pics (by Luca Gorini): CLICK HERE