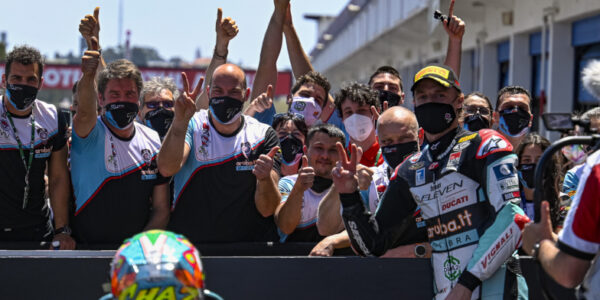 YESSS, CHAZ, YOU ALWAYS BELIEVE IN IT!
W-H-A-T   A   P-L-E-A-S-U-R-E!
Chaz Davies climbs on the podium, second position, in Race 2 at Estoril! And the Go Eleven Team conquers the fourth podium in Superbike!
But let's briefly review how this great result was achieved.
In the Warm UP, with fresh conditions, Chaz tried some changes to the geometry of the bike, meeting some of his requests after Race 1. Excellent pace always on the low 37 and a good confidence in view of the two races today.
Warm Up:
P 1   J. Rea   1.36.416
P 2   T. Razgatlioglu   +0.123
P 3   G. Gerloff   +0.310
…
P 7   C. Davies   +0.862
In Superpole Race, Chaz and the Go Eleven team find themselves forced to chase a good result, necessarily in the Top 9 to improve the starting position of Race 2. The Welsh rider started determined to recover as many positions as possible. With hard brakings, slidings, and the usual spectacular riding, he managed to grab the ninth position in a few laps, on a technical track, where overtaking is difficult. At the end he tried to chase the two BMWs fighting for seventh place, being each lap almost one second faster, but the important thing was to get into the reshuffle of the grid for Race 2. Goal achieved!
Superpole Race:
P 1   J. Rea   16'13.053
P 2   T. Razgatlioglu   +0.690
P 3   S. Redding   +1.180
…
P 9   C. Davies   +8.969
Race 2 … well the images spoke for themselves! Davies recovered from ninth place to second place, keeping Rea within sight for all 21 laps of the race. Unfortunately, it was just a short while to ignite the battle, after a hellish pace set by both riders, with no one, apart from Scott Redding, who crashed in the last laps, so fast to follow them. This is a great result that repays the Team for all the efforts made in the winter and in these first races. Now we must continue like this!
Great Chaz, even when things get tough, even when starting from the bottom, you always know how to bring out the best and do battle! The next stage is the home race of the Team, Ducati, and also a little bit of the rider, who is now 50% Italian!
Race 2:
P 1   J. Rea   34'13.197
P 2   C. Davies   +2.787
P 3   T. Razgatliouglu   +9.484
Today, however, we had a sad news; unfortunately the 19 years old, Jason Dupasquier, lost his life following an accident in the qualifying of the Moto3 at Mugello. Team Go Eleven and Chaz Davies are keen to express their condolences to the family and team. Ride in Piece Jason!
Chaz Davies (Rider):
"I am very very happy to finish the weekend like that! It was a complicated Saturday but we did a good job today to move forward on the grid in the Superpole Race and this gave us a chance to fight for the podium in the last Race! Really good job. Huge thank you to the Team and the guys not just for the great work today and the good job they have done this weekend, but also during the long winter to get here. All the guys from the Team deserve this more than I do. Hopefully we can learn a lot from this weekend and we can put this in the next races!"
Denis Sacchetti (Team manager):
"Chaz and the team were able to overturn the weekend, I'm proud of them, good job! Today some might think that we were also lucky, but in reality we deserve it all, because we started from behind and lap after lap Chaz reduced the gap with Rea, and overall he was the fastest. If we had done FP2 and without the yellow flag in qualifying, we could have had two good races, but these are the races. Today we enjoy this second place and we look forward with motivation. I express my condolences to Jason's family, today we can't be too happy!"
Sunday pics by Luca Gorini: CLICCA QUI