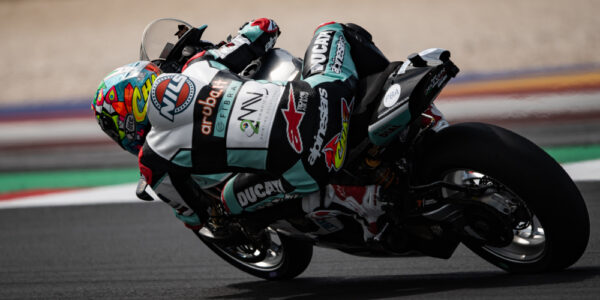 DAY ONE; CHAZ FOCUSES ON THE RACE DISTANCE!
A good but not great Friday for Team Go Eleven and Chaz Davies on the Misano track! The sun and the high temperature of the asphalt marked today's sessions, which are essential for finding the right set-up in view of the very important days of Saturday and Sunday.
In FP 1 the Go Eleven Team adapted the Estoril bike configuration for the Romagna track, making lot of laps with the harder solution at the rear; unfortunately Chaz couldn't  take part at the Misano tests during the winter, so there were no valid references from which to start. At the end, feeling quite at ease on the bike, he tried the new Pirelli solution at the rear, having an excellent response and improving his Best lap by about a second and finishing in the Top 5.
Free Practice 1:
P 1   T. Razgatlioglu   1.34.848
P 2   M. Rinaldi   + 0.054
P 3   G. Gerloff   + 0.075
P 4   C. Davies   + 0.543
In the afternoon Chaz and the staff tested the bikes and tyres, covering almost the full race distance, with the same tyres. Excellent datas collected and a good race pace, so much so that the Welsh rider set his best lap in the fourteenth lap. Unfortunately at the end of the session he couldn't take advantage of the new tyre due to a small crash, just as he was in line for a good jump forward. No problem either to the bike or to the rider, who got up and finished the session. So, probably, the timesheet doesn't reflect the real potential, but surely there are still a couple of details to fix.
Free Practice 2:
P 1   M. Rinaldi   1.34.334
P 2   A. Lowes   + 0.294
P 3   J. Rea   + 0.514
…
P 12    C. Davies   + 1.197
Tomorrow it will be a decisive day for the Home Round; for the first time the Superbike riders will experience the double qualifying tyre, Superpole will be a very tight and delicate session!
Chaz Davies (Rider):
"Today it has been a little bit tough, it has been a year since we rode here and no testing in the winter. There is a new surface here, so I felt like I had a little bit to learn today, to try to get myself at the speed. Probably we could have done a little bit of a better job, we didn't quite put everything together, so we need to do it tomorrow. I think it will help to have a night to sleep on it and adjust some data with the guys. Overall I am optimistic because I felt there is plenty of room for improvement and I think we can do that!"
Friday pics (By Luca Gorini): CLICCA QUI