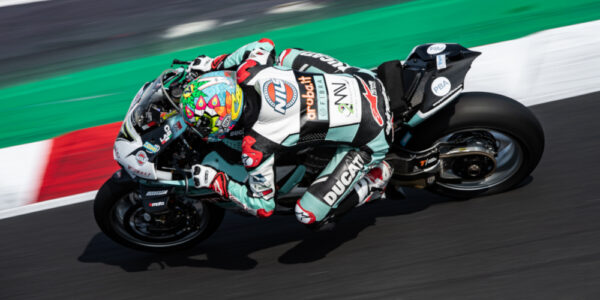 FORGET MISANO, DONINGTON IS IN SIGHT!
Unfortunately there is not much to say about today; Chaz crashed in Superpole Race, injuring his right shoulder, so he had been forced to raise the white flag after a few laps of Race 2.
The day seemed to have started well, the Welsh rider had a better feeling with the bike right from the Warm Up. In Superpole Race, however, after a contact at the Turn 2 with Mahias, he fell to the ground, hardly hitting his shoulder and right arm.
Superpole Race:
P 1   M. Rinaldi   15'50.711
P 2   T. Razgatlioglu   + 0.485
P 3   J. Rea   + 1.865
….
DNF   Chaz Davies
Declared fit, in race two Chaz wanted to line up regularly on the track, despite the pain in his right shoulder. After a few laps in which he struggled a lot in all the right-hand corners, he preferred to return to the box so as not to force the injury too much.
Race 2:
P 1   T. Razgatlioglu   33'24.487
P 2   M. Rinaldi   + 1.286
P 3   J. Rea   + 2.987
…
DNF   Chaz Davies
Chaz will now undergo further visits to rule out any kind of problem, will have three weeks to rest before returning to the track at Donington. It's fundamental to forget this unlucky weekend at home, recover one hundred percent and return to the main positions. The whole Go Eleven Team is sorry not to have given a show on the track to the fans present in the stands, but unfortunately that's racing and it is part of the game.
WE WILL BE BACK!
Chaz Davies (Rider):
"Unfortunately not a good weekend and not a good day at all! In the Superpole Race I thought like we had maybe improved the bike a little bit, for what I felt from the Warm Up lap, so I was charged up for the Race, trying to put my self in the first couple of rows for the Main Race. I had a good start, then from turn 1 to turn 2 I was on the inside, when we went left I didn't anticipate how much Mahias was gonna stop and I just caught his rear wheel. My bike was quite upright, I crashed and I landed very hard on my shoulder. I tried to recover the best condition possible between the two races to reduce my pain, but I knew it would have been really tough. I had no power on the right corners and in the hard breakings, here there are so many. The left was ok, but the right was very difficult. I did a few laps and the pain was increasing and increasing and I continue loosing the power and the control a little bit. It just made no sense to continue. I could have got a couple of points, but I would have been in a bad place and in a bad feeling in the end, and possibly do more damage. Now I will do a shoulder check and have a rest for a couple of days and awfully be ok for Donington!"
Denis Sacchetti (Team Manager):
"Unfortunately today everything went wrong, Chaz did well to stop in the race, here at Misano if the right shoulder is not at 100% it is dangerous to ride and it would have been useless to try to finish the race, also because he would have risked damaging his shoulder further and we need Chaz to be 100% fit for the next race. We are sorry, because from the home race it would always be nice to come out with a good result. The important thing is to keep morale high and be aware that we have all the credentials to be back already from Donington."
Sunday pics (By Luca Gorini): CLICCA QUI