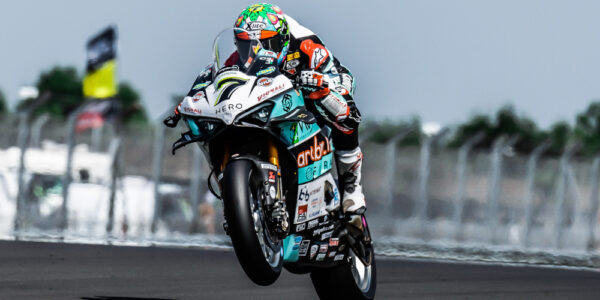 CHAZ CONCLUDES THE FRIDAY SESSIONS CONDITIONED BY THE RIGHT SHOULDER PAIN FROM MISANO!
A difficult Friday, as expected from the premises, that of Chaz Davies and Team Go Eleven on the Donington Park track. The Misano injured shoulder is painful in different points of the track, limiting the performance of the number seven.
In the first free practice session, the Welsh rider made several laps, all keeping the same tire, in race configuration, obtaining the Best Lap at the end of the session. During the session the technicians had to open the handlebars slightly, in order to stress the injured joint as little as possible. While the comfort was notable, on the other the lap performance suffered. However, Chaz reported that he was comfortable on the bike and that he had a good feeling with his Panigale V4-RS, even with really used tyres.
Free Practice 1:
P 1   J. Rea   1.27.841
P 2   T. Razgatlioglu   + 0.264
P 3   T. Sykes   + 0.361
…
P 10   C. Davies   + 1.331
In FP 2 the sun quickly warmed the track, and the temperature rose close to 40 ° C. Team Go Eleven continued the work on racing tyres in the first part of the session, obtaining good feedback; Chaz immediately improved his times from the morning, despite still complaining of some problems with the rear. In the last minutes, the light-blue Panigale V4-RS went on track for a time attack with a soft compound. The excessive grip from the SCX increased the effort on Chaz's right shoulder, who was unable to fully exploit the potential of the bike, and preferred to study its behaviour without pushing too much. With "harder" coverage, however, the pace isn't bad and the feeling is pretty good. Throughout the day, Chaz preferred not to do many, trying to save himself for the rest of the weekend and not inflame his shoulder further. Some small changes will be made during the night, with the aim of aiming for a good Superpole on Saturday.
Free Practices 2:
P 1   G. Gerloff   1.27.524
P 2   J. Rea   + 0.329
P 3   T. Razgatlioglu   + 0.524
…
P 12   C. Davies   + 1.540
Tomorrow, the weather forecasts predict a rather unstable weather with a high probability of rain, which could make the work done in free practice almost completely useless. Dry or wet makes no difference, we just have to wait impatiently for the Superpole and Race start time!
Chaz Davies (Rider):
"It's nice to ride again in Donington in the sunshine, I am not sure what is gonna do for the rest of the weekend. The first session this morning was quite painful on the shoulder, but when I did a few more laps I felt better, I tried to adjust the handlebar position a little bit to help me. Anyway I struggled a little with that injury. It is what it is, I can ride at 90%, but when I try to push the last 10 % I get a few problems. The bike felt quite ok to be honest, I didn't really put together a lap where I pushed 100%. I think there is a good margin to improve, but the main thing will be on the physical part. We have to see what the weather does for the rest of the weekend; maybe in rain conditions the physical will be less critical!"
Friday Pictures: CLICK HERE