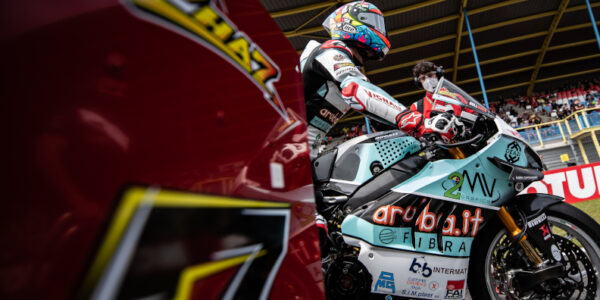 CHAZ STRUGGLE WITH THE FRONT, BUT GAINS CHAMPIONSHIP POINTS!
A though Saturday for Team Go Eleven in Assen, Race 1 proves to be more complicated than expected due to excessive degradation of the front tyre.
In FP 3 Chaz was able to reset yesterday's afternoon session, scoring a great session, strong and always in constant improvement. In the last few minutes he managed to improve his best reference, scoring the third position. An encouraging start for the Welsh rider, who proved to be comfortable on the bike.
Free Practice 3:
P 1   S. Redding   1.34.108
P 2   T. Razgatlioglu   +0.566
P 3   C. Davies   +0.595
In Superpole Chaz and the Team opted to use a qualifying tyre and an SCX, cause the SCX guaranteed a performance very similar to the Q, but more stable for at least a few laps. Unfortunately the number 7 caught a debris in the rear tire, which damaged both the swingarm and the tyre, with evident slices on the left side, forcing him to come back to the pits. Thirteenth position on the grid, once again the light-blue Ducati V4-RS is forced to a strong comeback in Race 1.
Superpole:
P 1   J. Rea   1.33.842
P 2   T. Razgatliouglu   +0.186
P 3   S. Redding   +0.211
…
P 13   C. Davies   +1.160
Race 1 started with a very specific strategy; recover as many positions as possible, using the rear SC0, of more constant performance for all 21 laps of the race. Davies, however, lost several positions in the first three corners, going to the penultimate and twentieth place. From then on, a good comeback begins which leads to a recovery of over ten positions. Unfortunately, as it is now normally happens in Superbike, with the riders racing at very similar times, it is almost impossible to recover the seconds lost at the start of the race in traffic. Furthermore, from the middle of the race onwards, the front tyre has an excessive drop, limiting the Welsh rider's agility and braking. However, he finishes in ninth position, gaining points for the championship. Definitively not the race that the Team and Chaz hoped for; now it will be essential to analyse all the data collected and be more competitive for the two races of tomorrow.
Never give up, anything can always happen in racing and with a great job during the night, you can even make up for a bad weekend!
Race 1:
P 1   J. Rea   30'48.682
P 2   S. Redding   +3.055
P 3   T. Razgatlioglu   +3.180
…
P 9   C. Davies   +18.902
Chaz Davies (Rider):
"Not an easy day, I think we improved the bike a bit from yesterday, we went into the Superpole hoping to be in the first two rows. I decided to use only one qualifying tyre, I am not sure if it was the right way, but it was the way we chose, because I felt like I could do something quite similar on the SCX tyre and maybe have at least two laps to do it. Unfortunately I found something on the track, that destroyed that tyre, it sliced the tyre. Anyway it wasn't a great Superpole, so we were quite far back on the grid, among the chaos early on. I was really far back in the beginning and then I found a little bit of rhythm, starting to come forward. Then I destroyed the front tyre for some reason, we need to understand why, because it was a much much worse condition than yesterday. I lost speed in turning, I thought I was gonna crash, so I tried to bring it home and get some points. Hopefully we can have a look to the data and check what happened today and restart tomorrow with a bike that I can push all the race long!"
Denis Sacchetti (Team Manager):
"After the free practice we did not expect to face these difficulties in the race. Both in FP 1 and FP 3 we proved to be fast both on the Superpole lap and on the race pace, so much so that we could aim for the podium. The unlucky event of Superpole has damaged us for sure, but in the race we were never fast anyway, there was no grip on the front and at the end of the race the front tyre was strangely very damaged. But I think that the choice of compounds was not wrong; even if many have focused on softer choices, on the podium, 2 out of 3, they had made the same choice as us. Now it is important to understand what happened in order not to find ourselves in the same condition again, and aim for two good races tomorrow."