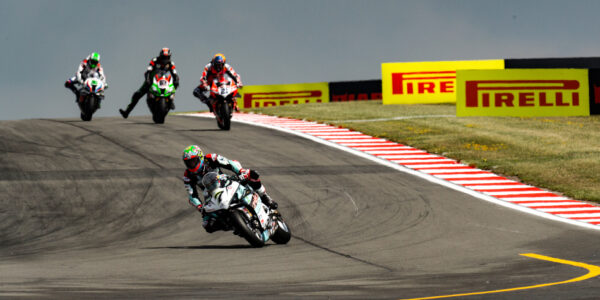 CHAZ STRUGGLES, BUT GETS POINTS!
A really complicated Saturday for Superbike in Donington! Rain, sun, mixed conditions race have characterized the day today on the spectacular East Midlands track.
In Free Practice 3 the riders rode, for the first time this season, in completely wet asphalt conditions. Chaz did not want to force his shoulder too much in view of a long day on the track, completing six laps before a sudden increase in rain. Good feeling and great pace, in view of a wet Superpole.
Free Practice 3:
P 1   J. Rea   1.41.433
P 2   A. Lowes   + 1.181
P 3   L. Haslam   + 1.288
…
P 7   C. Davies   + 3.790
The Superpole, as expected, was in wet conditions; no qualifying tyre, but soft Rain at the rear and out on track for all the 15 minutes of the session! Chaz improves lap after lap, showing good confidence with his Ducati V4-RS. Unfortunately on the last lap, when he was in line for the second row, a mistake at the penultimate corner cost him the fastest lap. Ninth place on the grid, third row, and a good position for the start of the first two races of the weekend!
Superpole:
P 1   J. Rea   1.40.101
P 2   M. Van Der Mark   + 0.525
P 3   T. Sykes   + 0.662
…
P 9   C. Davies   + 2.529
In race 1… well once again the weather wanted to complicate the Superbike plans! Shortly before the start the sun made its appearance over Donington Park, drying fast the track; all the riders choose to go on track with the slicks, but the first laps are really difficult. A single partially dry line forces the protagonists to take risks over the limit. The Go Eleven rider took some laps to get the right confidence with the asphalt, losing time at the start of the race. Lap after lap he set his pace, which allowed him to recover up close to the Top Ten. In the last third of the race, when he was fighting for ninth position, the pain in his shoulder became too strong, forcing him to slow down. Eleventh position and some points brought home. These are not the positions that Team Go Eleven and Chaz would like to battle for, but from the beginning of the weekend the delicate situation from a physical point of view was clear.
Race 1:
P 1   T. Razgatliouglu   34'36.377
P 2   J. Rea   + 2.419
P 3   A. Lowes   + 12.261
…
P 11   C. Davies   + 48.102
For tomorrow the weather seems, once again, not promising anything good, with the rain that should be protagonist. Chaz will try to recover the best possible physical condition, while the technicians will concentrate on solving some small problems highlighted by today's race. Two spectacular WorldSBK races will entertain fans through the TV!
Chaz Davies (Rider):
Tough Race today, obviously conditions were tricky in the beginning and then got quite good, even better than we expected. Unfortunately it didn't help the physical site, so for me it was a little bit of a survival race to try to set a constant pace, but not overwork myself to not finish the race. I just felt very behind the bike, I was not able to ride as I normally would. Anyway we got a few points, that's positive at least. Hopefully we can feel a little bit better tomorrow!"
Denis Sacchetti (Team Manager): 
"Chaz was very good today, finished a difficult race, both for the pain in his shoulder and for the weather conditions. Not all the riders would have been able to take home points, and from here it shows the desire and determination he has. I hope he can recover from this injury as quickly as possible, so that he can be back fighting for the positions he deserves!"
Saturday Pictures: CLICK HERE