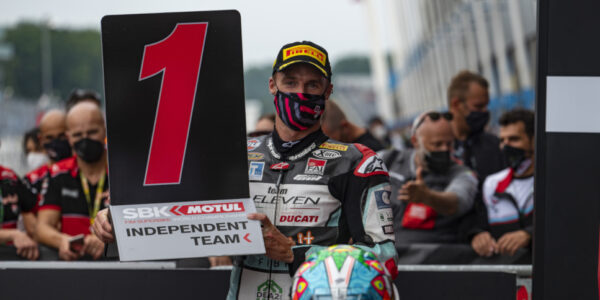 P4, BEST INDEPENDENT, IN CHAZ DAVIES 200TH RACE!
Team Go Eleven and Chaz Davies cheered up the Dutch weekend with an excellent performance in Race 2, at the 200th start of the Welsh rider in WorldSBK.
After yesterday's difficult day, in the night, the TT-Circuit is hit by a violent storm, which floods large sections of the Cathedral of Speed. The Warm Up is even postponed, due to a large amount of water in Turn 5. During the session the track is half wet and Chaz takes to the track to make some laps without pushing to the limit.
Warm Up:
P 1   T. Razgatlioglu   1.36.535
P 2   J. Rea   +0.431
P 3   A. Bautista   +0.504
…
P 9   C. Davies   + 2.117
The Superpole Race is a fundamental race for those who struggled in qualifying, getting into the top nine is the main goal to aim for an excellent Race 2. Chaz starts quite well, defending his position and begins the chase to the Top Ten. Lap after lap he recovers positions, with a good pace. He goes into battle with Rabat and Gerloff for eighth position, then finishing ninth with a good defense in the last lap. In 10 laps recovering so many positions is not easy, but the third row conquered for Race 2 is definitively important.
Superpole Race:
P 1   J. Rea   15'54.593
P 2   M. Rinaldi   +3.542
P 3   T. Razgatliouglu  + 3.600
…
P 9   C. Davies   + 11.891
Just before Race 2, as in Donington a few weeks ago, some threatening clouds appear over Assen. Fortunately, after a few drops, the sun returns and the last race of the weekend starts on dry asphalt. Chaz has a good start, follows an inside line in the first corners and manages to have an excellent speed on the straight that allows him to recover a couple of positions. His race pace is fast from the start, so much so that he manages to overtake Sykes and Lowes in a few laps. He then sets his pace and sets off in pursuit of the Ducati Redding and Rinaldi duo, in battle with each other for third place. Scott is a bit faster, while Michael and Chaz are fighting each other. The Go Eleven rider throws himself into the second sector and conquers the fourth position. He stretches just enough to defend himself from Bautista's comeback, but from the middle of the race on, the front tyre is completely destroyed, as happened yesterday. Solid performance by the Welsh rider who stops right behind the podium in his 200th World Superbike race!
Best Independent Team & Rider, Go Eleven is back in business!
Race 2:
P 1   J. Rea   33'27.685
P 2   S. Redding   +1.605
P 3   A. Locatelli  +3.431
P 4   C. Davies   +8.695
Chaz Davies (Rider):
"We made a quite big change on the bike and it was good! I am happy to feel a step forward in turnings; it was turning a much more naturally and that helped not only the performance of the bike, but also from the physical point of view, I had to work on my self a little bit less and I could let the bike do the work naturally. So credit to my crew for making a step forward, for being brave in a decision, it was definitively the right one. Unfortunately we suffered the same problem of yesterday, at seven laps to go I killed the front tyre. That was a bit disappointing, because I was really feeling like I could get in the mix for the podium, catching Scott a little bit; rear tyre was quite good, but the front was absolutely dead. From that I was just managing to stay on the bike, I was really loosing it a lot, I had to save a lot of front slides. I did what I needed to do, I conserve the fourth place and the Top Independent, so happy with that and thanks to the Go Eleven Team!"
Denis Sacchetti (Team Manager):
"In the Superpole Race we weren't very fast but it was too important to be able to get into the nine, and Chaz did it. For the race, the team then had the courage to risk a completely different set-up, we took a risk but it went well and rewarded us. Chaz's pace was very fast, and third place was within reach. Unfortunately he finished the front tyre a few laps from the end. A problem we have been carrying around all weekend, we need to understand why we killed the tyre so early. Congratulations to Chaz for his 200th Superbike race; he is more and more in the legend of this Championship!"
Sunday Pics (By Luca Gorini): CLICK HERE