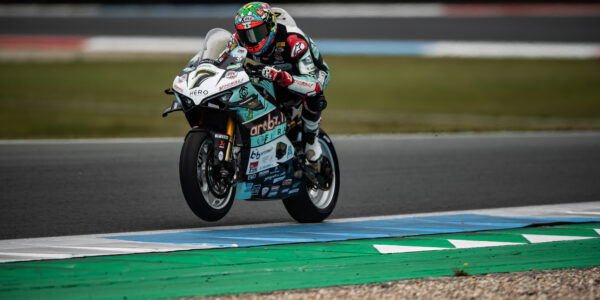 POSITIVE VIBES AFTER THE FIRST DAY AT ASSEN!
A two-sided Friday for Go Eleven, FP 1 in great shape with Chaz constantly in the first three positions, FP 2 close to the Top Ten, after some important changes made between the two sessions.
The first free practice session on the Assen circuit starts with "fresh" conditions; 17 ° C in the air, 25 ° C on the asphalt. Davies immediately starts very strong with the harder compound, entering the top positions of the temporary standing. After a short stop in the pits, he returns to the track and improves his time considerably further, going under the wall of the 35. He carries out the whole session keeping the same tyres, focusing his work on the reaction of the bike with used tyres, saving the softer and faster Pirellis for the rest of the weekend.
Free Practice 1:
P 1   S. Redding   1.34.591
P 2   J. Rea   +0.078
P 3   C. Davies   +0.380
For FP 2, the technicians and the Welsh rider decide to make some important changes to the bike, to try to improve in some areas of the circuit, especially in the second half of the track. Unfortunately, the changementsa feel immediately not very effective and Chaz can't repeat the times of the morning. Time during the session is short and to return to the morning set-up would have meant losing the entire practice. It's a shame not to be able to improve, but on Friday no points are awarded, and now the Team has the data to be able to decide the new path. With a view to Saturday, we return to the balance of FP 1, and we start from there, aware of our potential.
Free Practice 2:
P 1   J. Rea   1.34.391
P 2   G. Gerloff   +0.121
P 3   A. Bautista   +0.350
…
P 14   C. Davies   +1.112
Tomorrow is already time for important sessions, from Superpole to Race 1 most of the Dutch weekend will be decided. It is forbidden to make mistakes in qualifying, here at the TT circuit, where over 10 riders are in a second, starting from behind could compromise even more the results of the races!
Superpole: 11.10 – 11.25
Race 1: 14.00
Chaz Davies (Rider):
"We had a good start of the day in the morning. I felt good with the bike, in general my Ducati V4-RS was working ok, but we were trying to obviously improve. So, we made some reasonable changes for the afternoon, quite big, and I didn't feel like anything really worked very good, I felt like we went backwards, we didn't have a particularly smooth session. So, I think we will look at our setting of FP 1 and try to go on a different direction, cause this afternoon it was definitively not the right way. "
Friday Pics (By Luca Gorini): CLICK HERE