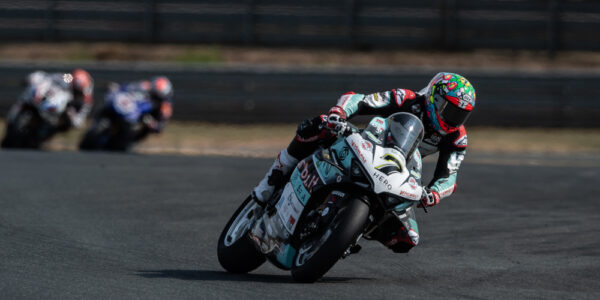 GOOD SUPERPOLE RACE, THEN IN RACE 2, CRASH, NO CHAMPIONSHIP POINTS!
A bad day, for Go Eleven and Chaz Davies; unfortunately the wheel of fortune does not turn, and even today, after a good Superpole Race, in the main race a crash on the first lap precludes the possibility of a result. Even before starting to analyze today, Team Go Eleven and Chaz Davies are keen to apologize to Team GRT Yamaha and Garrett Gerloff, innocently involved in the crash.
In the Warm Up Chaz goes on track feeling confident in starting the day in the best possible way. New tyres and almost ten laps completed at an excellent pace, immediately behind the first group.
Warm Up:
P 1   S. Redding   1.36.903
P 2   T. Razgatlioglu   + 0.176
P 3   A. Locatelli   + 0.201
…
P 6   C. Davies   + 0.601
The Superpole Race starts with good expectations for Go Eleven, considering the excellent fifth starting place from the grid. The start is not optimal and especially during the first lap he remains a bit closed, losing several positions. Thus Chaz begins his comeback, overtaking Van Der Mark and chasing the Sykes and Lowes duo a little further on. The pace is good, in line with fourth place, but unfortunately in 10 laps, it is never easy to recover, especially on a track with these characteristics. These short races are often influenced by starting and grid position, leaving little room for strategy. The number seven finishes in seventh position, losing a row from the qualifying position, but still showing good potential for Race 2.
Superpole Race:
P 1   S. Redding   16'20.247
P 2   J. Rea   + 0.631
P 3   T. Razgatlioglu   + 3.040
…
P 7   C. Davies   + 7.203
Race 2, unfortunately, doesn't leave much to say to Go Eleven; during the first lap, in an attempt to overtake Bassani, Chaz loses the front in Turn 9, same place and similar modalities to yesterday's crash, also involving Gerloff; the bike, once on the ground, hits the Yamaha of the American. It is a shame to finish the race after a few seconds, and above all not having finished either of the two main races starting from excellent positions, and having a competitive pace, at least for the Top 5.
Race 2:
P 1   T. Razgatlioglu   36'09.492
P 2   S. Redding   + 1.105
P 3   J. Rea  + 3.715
…
CRASH (DNF)   C. Davies
It is urgent to turn the page, to get back to getting points in a consistent and constant way. Magny Cours, France, next 03-04-05 September, can and must be a place of redemption. In those parts the weather often affects the races, but for Go Eleven and Chaz it will be essential to collect every possible opportunity between now and the end of the year.
Chaz Davies (Rider):
"Starting from Warm Up, I felt very good with the bike and I was optimistic for a good day. In the Superpole Race we hadn't a good start, then I had an OK Race, the pace was good, but in this Race everybody in so on the limit that it's actually difficult to go forward sometimes. I was quite happy with the feeling, I felt like we can maybe improve the bike a little bit for the last race. In Race 2 I got another pretty bad start, I lost several positions, obviously I felt like I had the potential to fight for the Top 5, so I passed Bassani at the end of the back straight, but in front of me there a few riders pushing each other, and I think that caught the attention of the couple of guys in between me and this group. Everybody was kind of anticipating what would happen, but I was already overtaking. Considering my line and my speed, I couldn't consider the situation in front and unfortunately I lost the front trying to avoid Garrett, trying to stop the bike enough and I also took him out of the Race. I am disappointed about that, to take another rider out of the race and also not have the opportunity today to put together full Race. I am very sorry to all the Team, it was a typical first lap incident. Just looking forward to better times in Magny-Cours."
Denis Sacchetti (Team Manager):
"I am very disappointed, we are competitive, we can do great races, but we can't finish them. Of course, I think at this moment we are influenced by not being quick at the start. We find ourselves in the middle of the group, and you never know what will happen, you are in a hurry to recover so as not to lose ground from the podium group, and bad luck or error can happen. Today we are halfway through the championship, and we remain motivated because we know what we can do and where we want to go, the team and Chaz have a great feeling, and together we can change our championship and have fun."
SUNDAY PICS (By Luca Gorini): CLICK HERE