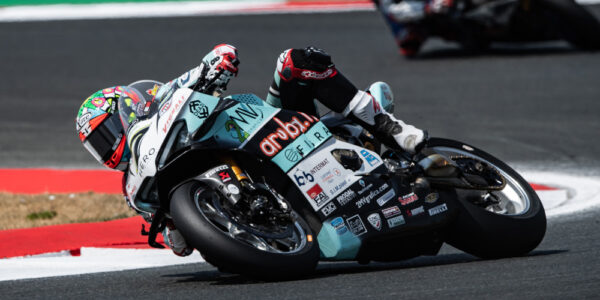 GREAT SUPERPOLE, RACE 1 LOST…ON THE FRONT!
Today it was a different day compared to the last races; Chaz had a great Superpole, staying at the top for a few minutes, then Race 1 ends in Turn 9 after loosing the front.
The morning begins with a slightly struggling FP 3; Chaz rode with the same racing tyres throughout the session. As often happens at this time of year, the morning session are not very indicative of the real values in the field. All the riders are really close, so much so that with three tenths less the Welsh rider would have finished in the top 6.
Free Practice 3:
P 1   A. Locatelli   1.37.060
P 2   S. Redding   + 0.236
P 3   J. Rea   + 0.356
…
P 14   C. Davies   + 1.186
In Superpole the goal is the first two rows, despite being a very difficult session for Go Eleven in this 2021. Chaz starts immediately in a strong way; with the first qualifying tire he enters the Top Ten, improving again on the second lap, placing himself in seventh position. But it is on his second attempt with the Pirelli Q that he gives his best; a spectacular first lap, close to Rea, and, when he crosses the finish line … it's a provisional Pole! It lasts a few minutes, but it is a great satisfaction. In the end he finishes fifth, in the second row, hitting an excellent box in view of Race 1 and Superpole Race.
Superpole:
P 1   J. Rea   1.36.122
P 2   S. Redding   + 0.093
P 3   T. Sykes   + 0.424
…
P 5   C. Davies   + 0.571
Race 1 starts with excellent expectations for Go Eleven, given the positive trend seen in all the races of this 2021. Chaz loses a couple of positions at the start, triggers the battle with Van Der Mark and Mahias, then once overtaken, he goes on pursuit of Sykes and Lowes. He returns under the duo in a few corners, demonstrating a stronger pace, without having the opportunity, however, to attack. On lap seven, in Turn 9, he loses the front and ends his race with a crash. Really a shame because the Top 5 and the Best independent Rider were clearly within reach. Probably the crash was also affected by a wrong choice of front tyres; two other riders opted for the experimental solution, ending the race on the ground, and, despite being a tyre used in other races, here it was not the best onel.
Tomorrow there will be two more opportunities to take home good points!
Race 1:
P 1   S. Redding   37'50.793
P 2   J. Rea   + 2.519
P 3   T. Razgatlioglu   + 5.894
…
CRASH (DNF)   C. Davies
Chaz Davies (Rider):
"Today it was a mix day. I was very happy with there performance in Qualifying, we did a good job to be in the middle of the second row and I thought that was a good opportunity to put together a good race and to at least see the front guys and see if we have enough for a podium. Unfortunately my start wasn't fantastic, I lost some positions, till ninth and then I was on the back of the battle for fifth, I was in P 7. I was waiting the opportunity to overtake and I think having two rider in front of me it was causing some difficulties with the front tyre and the temperature. For this reason I started to struggle a little bit with the front, then it closed on me. So, honestly, I didn't expect that, maybe we need to look at using a different tyre option tomorrow to try to understand what we can do to avoid this. It was disappointing because I felt quite good with the bike and I felt we could have a Top 5 result today. Anyway there are two opportunities tomorrow!"
Denis Sacchetti (Team Manager):
"In qualifying Chaz surprised me, when he scored the provisional pole, nobody expected it, also because the FP 3 had gone badly. For the Superpole we opt to change the set up of the bike. So, it means Chaz had to push with the Q tyre on a bike without expected feelings and reactions. For the race he chose a solution of development tyre on the front, a tyre that had given good results in previous races, but here in Navarra, if we go to analyze, the only 3 riders who chose it for the race, then crashed. So maybe it wasn't the best solution for the track conditions. Today we lost an opportunity to recover points on Gerloff for the Independent title, but we came back competitive and this gives us motivation for tomorrow."
SATURDAY PICS (By Luca Gorini): CLICK HERE