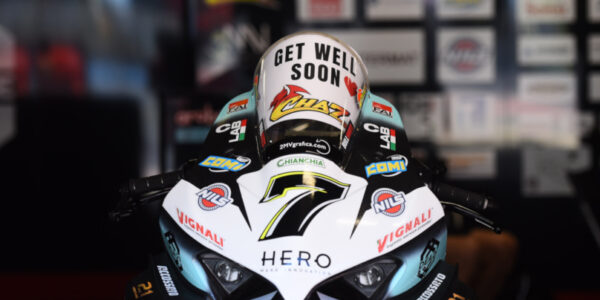 CHAZ ENDS PREMATURELY THE MONTMELO' WEEKEND, FOLLOWING A CRASH WITH ANOTHER RIDER!
An unlucky Sunday, that of Team Go Eleven, on the Catalan circuit! Chaz Davies was forced to finish his weekend prematurely following a collision in the Superpole Race. Chaz is currently in the hospital for further checks, he has always remained conscious, but complains of severe intercostal pain. Further updates will come in the evening, once all the necessary exams have been completed.
Warm Up:
P 1   J.Rea   1.41.771
P 2   A. Locatelli   + 0.175
P 3   M. Rinaldi   + 0.271
…
P 13   C. Davies   + 1.058
In Superpole Race Chaz started thirteenth, following yesterday's complicated qualifying session. In the first laps he maintains the starting position and immediately starts aggressive to try to recover and enter the top nine, so as to have a better starting position for Race 2. After an exchange of positions with Mahias, in the change of direction between Turn 11 and Turn 12, the French rider completely misses the trajectory and hits the Welshman number 7. The contact takes place at high speed, so much so that the two riders and their respective bikes end up against the air fences. Moments of fear, with Chaz who remains on the ground and is carried out on a stretcher, while he waves his left hand to reassure everyone. The Go Eleven race and weekend ends there; Davies is transported to the hospital for further checks and tests, but he never lost consciousness. He suffers, however, from a very strong pain on the right side of the body, to evaluate the extent.
Note: the rider Lucas Mahias was then penalized in Race 2 with the start from the last position, following the crash with Chaz.
Superpole Race:
P 1   J. Rea   8'32.847
P 2   T. Razgatlioglu   +0.211
P 3   A. Bautista   +2.771
…
DNF   C. Davies  
Race 2:
P 1   M. Rinaldi   39'08.002
P 2   T. Razgatlioglu   + 3.030
P 3   S. Redding   + 3.207
…
DNS   C. Davies   
WorldSBK now moves to the Jerez de la Frontera track, a historic appointment. Next weekend, without a break, the riders will be back on track! In the coming days the Go Eleven Team will keep you informed about the updates in view of the Andalusian Round and the physical condition of Chaz Davies!
Denis Sacchetti (Team Manager):
"The Superpole Race is spectacular, but today someone had too much enthusiasm, and this time our rider went to the hospital. Now we hope that the result of the CT scan is negative, Chaz complains of pain in his right side, but at the medical center he laughed and joked and the first thing he asked was to prepare the bike for Race 2, he wanted to race! Now let's see how he is doing this week and we will evaluate what to do in view of the next round!"
SUNDAY PICS (BY LUCA GORINI): CLICK HERE