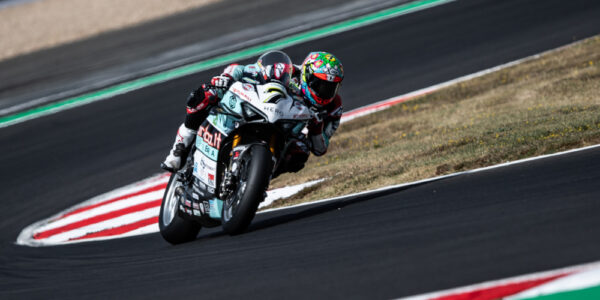 CHAZ IS BACK ON TOP AT MAGNY-COURS!
Great Friday at Go Eleven! In the two free practice sessions, number 7 Chaz Davies proved competitive and hungry, always in the very first positions of the standings in all conditions.
FP 1 starts in mixed conditions, as already happened several times in this 2021. The rain wet the asphalt during the night, remaining wet until fifteen minutes to the end of the session. The riders' work was therefore concentrated in a few laps, on rather "slow" laptimes. All the protagonists preferred not to take excessive risks, also considering only the dry line on track. Chaz, however, immediately proved to be confident with the bike, improving his standings lap by lap. The final result sees him in eighth position, due to a mistake on the last lap, when the other riders were able to take advantage of the improvement of the asphalt. No problem, however, considering the climatic improvement expected for the afternoon.
Free Practice 1:
P 1   J. Rea   1.38.402
P 2   M. Van Der Mark   + 0.140
P 3   A. Lowes   + 0.385
…
P 8   C. Davies   + 1.446
For the second session, the track conditions are optimal; about 26 degrees in the air, just under 40°C on the asphalt and the shining sun to illuminate the WorldSBK. The Welsh rider enters the track with great determination; after a couple of laps on the high 37, he manages to lower a few more tenths by taking the lead. He maintains the leadership until the final minutes, repeating his best lap several times, even improving it by a few cents, with different tyre compounds. The pace seems excellent, but unfortunately with the time lost in the morning, it was not possible to make a real comparison between the Pirelli compounds here to France. In the last five minutes, Toprak manages to open a little gap, but Chaz finishes in the top 5, obtaining the Top Speed (300.8 km/h) and showing to be the fastest in the second sector.
Free Practice 2:
P 1   T. Razgatlioglu   1.37.138
P 2   S. Redding   + 0.208
P 3   J. Rea   + 0.288
P 4   C. Davies   + 0.334
A really happy day for the light-blue Ducati, which returns to the positions left before Chaz's injury in Misano. It will be necessary to confirm tomorrow, but at least tonight the guys from Go Eleven could go to sleep with a smile!
Saturday schedule:
FP 3: 9.00 – 9.30
Superpole: 11.10 – 11.25
Race 1: 14.00
Chaz Davies (Rider):
"It was a really positive first day, I felt good with the bike instantly! This morning session was conditioned a lot by the overnight rain we had, but this afternoon we were able to start working on our set-up for weekend for the races. I think the bike was in a good window from the first laps, so good job to the boys that put together a set-up for Magny-Cours that we thought it could be a good starting point. I just felt quite solid and consistent all through the session. Look forward to tomorrow!"
FRIDAY PICS (By Luca Gorini): CLICK HERE