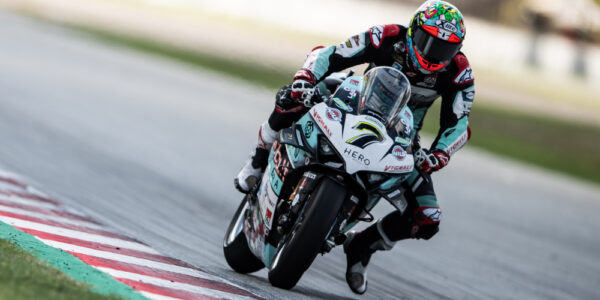 MONTMELO' DAY ONE; THE FOCUS IS ON FINDING REAR GRIP!
The action is on at Montmelò! The weather was good and all the riders were able to compete in the free practice sessions in optimal conditions. Cool in the morning, very warm in the afternoon, today conditions have changed a lot between one session and the next.
FP 1 starts with less than 30 degrees on the asphalt; Pirelli brought only two rear tyre compounds to Barcelona, ​​the "classic" SC0 and the evolution of the soft, the 557, due to the very high drop generated by the Catalan track. Chaz did several laps with the hardest tyre, setting the pace of 43 and a half with extreme constancy. All the riders are really closed in a few tenths, but the Go Eleven rider can't put together the perfect lap, attested by the four tenths of Ideal Time, finishing slightly, in terms of gap, out of the Top Ten. The main problem on this track is the complete lack of grip at the rear, complained several times by the Welshman even during the session.
Free Practice 1:
P 1   J. Rea   1.42.419
P 2   T. Razgatlioglu   +0.159
P 3   T. Sykes   +0.189
…
P 15   C. Davies   +1.092
For the afternoon session, temperatures becomes warmer, reaching 45 degrees of asphalt. In conditions similar to those that will be faced in the races (starting time at the end of the PR) the teams try to set long distance simulations. Chaz opts for the softer compound, immediately managing to lower his Best Lap of the morning. However, some difficulties remain in the last sector, which is not yet interpreted at its best by the number 7. The rear grip is very little, and the rear Pirelli suffers, as a result, rear tyre is the protagonist of an "old style" sliding at turn 3, nice for the cameras, but not very productive for the laptime. Even in FP 2 the riders are all very close and Chaz shows an excellent race pace, even with used tyres, but there wasn't a really good time attack. No worries, however, because with two tenths less you are in the Top 5. In the evening the Go Eleven staff will try to modify the geometries and the set-up of the V4-RS to find more grip on the rear, without losing the feeling on the front, here essential for Chaz to overtake and push hard.
Free Practice 2:
P 1   T. Razgatlioglu   1.42.369
P 2   M. Rinaldi   +0.217
P 3   A. Locatelli   +0.246
…
P 13   C. Davies   +0.863
Sudden storm are expected tomorrow, especially during qualifying and race times; the weather could, once again, fit in as a WorldSBK variable. From Catalonia it is already time for qualifying and races, here is a brief recap of the times!
FP 3: h 9.00 – 9.30
SP: h 11.10 – 11.25
Race 1: h 14.00
Chaz Davies (Rider):
"A difficult day! It was very very slippery from the first lap to the last lap today, really. I didn't find any traction at all and I struggled with that. I don't feel like I can carry the momentum to get off the corner, so we need to try and find a direction for that tomorrow. Especially with the fresh tyres, I feel like we have zero zero grip. So, we need to do a little bit of work tonight and hopefully find something better for tomorrow!"
FRIDAY PICS (BY LUCA GORINI): CLICK HERE