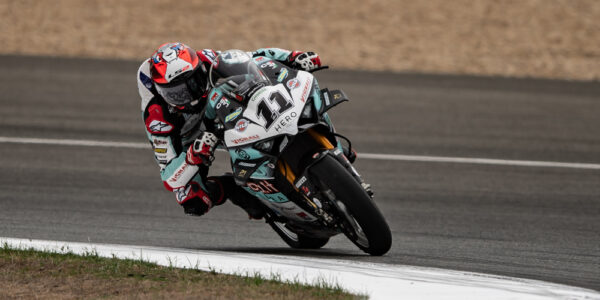 GOOD FEELING FOR LORIS, SMILE ON HIS FACE AT THE END OF DAY 1!
First positive contact for Baz with Team Go Eleven's Ducati V4-RS! Excellent laptimes from the beginning, a constant and ever-increasing pace brought the French rider close to the Top 10 of the day.
Coming from America, after a year away from the World Championship, jumping on a V4, with different specifications and tyres, at the end of the World Championship, is not easy, as anticipated yesterday. Loris, however, proved to be very fast and to know how to adapt immediately, without making mistakes and without being in a hurry to prove something. In FP 1 he set an excellent pace with the harder compound, setting the best reference at the end of the session with a very used tyre. Upon returning to the pits, the smile on his face shows how much fun he has enjoyed and the desire he has to race in this Championship.
Free Practice 1:
P 1   T. Razgatlioglu   1.40.074
P 2   M. Rinaldi   + 0.086
P 3   J. Rea   + 0.337
…
P 11   L. Baz   + 1.017
During the second Free Practice, the French rider carried out a complete race simulation with the softer solution at the rear, a type of tyre introduced by Pirelli this year, never tested before by Baz. It took a few laps to get the right confidence, but after 15 laps he managed to set the Best Lap, getting very close to the times of the morning. There was a little lack of feeling on the time attack, but then it improved lap by lap. For tomorrow there are still some small adjustments on the bike set-up, but generally it was a more than positive first day.
Free Practice 2:
P 1   J. Rea   1.39.671
P 2   M. Rinaldi   +0.399
P 3   L. Haslam   + 0.657
…
P 12   L. Baz   + 1.467
Tomorrow, time to pull out the claws, Superpole and Race 1 day! It will not be easy for Loris to immediately find the feeling with the qualifying tyre, but there will be two opportunities to attack the time. Now, however, it's time to rest, switch off the mind and start again tomorrow even more ready!
FP3: h 9.00 – 9.30
Superpole: h 11.10 – 11.25
Race 1: h 14.00
Loris Baz (Rider): 
"I had a lot of fun, and that's the most important thing because I came here to ride with a smile! I immediately felt comfortable on the bike, I tried to understand the differences with the one that I ride in America, especially as regards the tyres; the Pirelli are very different from the Dunlops. Throughout the day I tried to find the right feeling, and little by little I felt the bike more in my hands. The first session also went quite well on the time attack, while in the afternoon we concentrated on race pace. I didn't improve the time of the morning, but the pace is really good. Now I will sleep thinking about today and tomorrow I want to take another step forward. I want to keep having fun, as I am doing; it is the most important thing when jumping on a new bike during the current season!"
FRIDAY PICS (By Luca Gorini): CLICK HERE