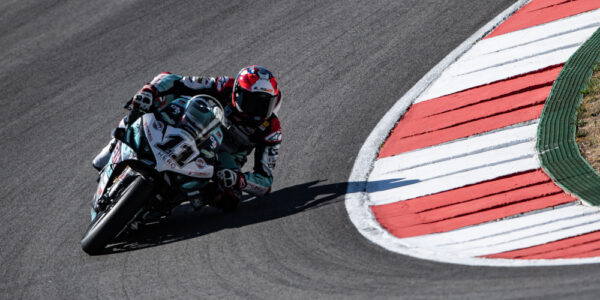 DAY 1 PORTIMAO; BAZ TAKES P 6 IN TODAY'S FREE PRACTICE, GAPS ARE REALLY CLOSE!
A very strong first day for Loris Baz in the Algarve "playground"! Great pace, always in the top positions, excellent work even with used tyres.
For FP 1, the French rider and the team chose to start with a bike very similar to the one they left a few days ago in Jerez. Loris had the main objective of testing the Ducati V4-RS and Pirelli tyres on the Portimao track, without making too many set-up changes. From the very first laps he immediately felt the bike "in his hands", so much so that he entered the top of the standings and improved lap by lap. In less hot conditions the Ducati reacts very well, so much so that Baz manages to finish in the first five places, just two tenths from the first!
Free Practice 1:
P 1   J. Rea   1.41.542
P 2   G. Gerloff   + 0.141
P 3   A. Lowes   + 0.161
…
P 5   L. Baz   + 0.218 
In view of FP 2, the track heats up, reaching over 45°C of asphalt. Thus Loris tested a new tyre solution at the rear, simulating almost an entire race. After a few steps to become familiar with the reaction of the Pirelli carcass, he begins to push and constantly improves in almost all the thirteen steps he has made. In the warm, the set-up is still not optimal, but compared to Race 2 in Jerez, Portimao has been a significant step forward.
Free Practice 2:
P 1   J. Rea   1.41.466
P 2   A. Lowes   + 0.191
P 3   L. Haslam   + 0.250
…
P 6   L. Baz   + 0.508
For tomorrow and Sunday, a slight drop in temperatures is expected, with even some chance of rain in the morning of the day after tomorrow. We'll see what the weather has in store, but the important thing will be to have a good Superpole to fight for important positions in the races. In the evening the technicians will make some small changes to better adapt Loris' style to the Ducati Go Eleven, then the track will give the result!
Saturday*:
FP 3: 9.00 – 9.30
SP: 11.10 – 11.25
Race 1: 14.00
*Local time
Loris Baz (Rider): 
"It was a good day, easier than in Jerez because I already had some references to the bike. I immediately felt good on it, in FP 1 I had a good pace, then I also tried a new tyre with which I had a good feeling. In the afternoon we did a long run with the same tyre and it went well. In the heat I still struggle a little, because I'm not very used to the movement of the Pirellis; every time it slides, I feel like I'm falling, instead it's just the normal "life" of the tyre. The pace, however, was good, so let's try to continue like this tomorrow!"
FRIDAY PICS (By Luca Gorini): CLICCA QUI