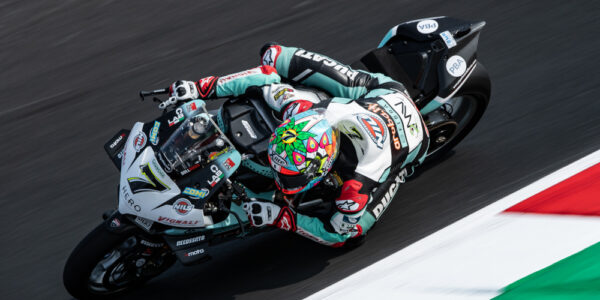 WORLDSBK STOPS IN SOUTH-AMERICA, CHAZ IS BACK ON THE GO ELEVEN'S DUCATI!
Two years later, two years that changed the World, WorldSBK comes back to the extra-European stages; Argentina, San Juan El Villicum circuit is the first international stage of the Post-Covid era. A stage that, until a few weeks ago, seemed like a mirage, is ready to start!
Coming from the amazing, in terms of results, Round of Portimao, with three podiums achieved, the Go Eleven Team is ready to ri-embrace Chaz Davies, who has recovered from his ribs injury. Almost a month has passed since the crash on the Barcelona track, Chaz is ready to finish the last races of his admirable career in the best possible way. The San Juan track has always been the scene of great battles and great show, with a difficult track that shows the characteristics of the bikes and the skills of the riders. Just at the foot of the Andes mountains chain, Chaz in El Villicum has already been able to hit the podium in 2019, in the last race held here in Argentina; the track is congenial to the characteristics of the Welsh rider, but on the first day it will be necessary to evaluate the real physical condition at the end of the sessions on the track.
Before getting to the heart of the weekend, all the Go Eleven Team is particularly keen to thank Loris Baz for the excellent work done together, reaching unthinkable goals; getting on the podium three times in three different conditions, considering the level of the Superbike World Championship, after only two rounds, is something exceptional. Thank you Loris, good luck for your future, we hope to see you soon on the track in World Superbike!
Chaz Davies (Rider): 
"It's good to be back! Before this time I never missed a complete race weekend, without even starting it. Sometimes I got injured during the weekend, and I had to miss races, but never do I miss a complete Round since the beginning. It has been a different experience, it's almost a little taste of the future, being at home and watching races from the sofa. But I am happy to be back in Argentina, a circuit that I really enjoy, I am feeling much better than I was a few weeks ago, so I expect to be ok on the bike. Obviously being passed fit it's the main thing, the goal for the weekend it's to go in progression, to not do too much too soon, understand my condition on the bike, also my fitness and my strength. I missed a lot of races, I haven't been able to do any training, so for sure I am gonna suffer a little bit on that side, but I am gonna grit my teeth for the weekend. I am confident we can do something good and solid, so look forward to it!"