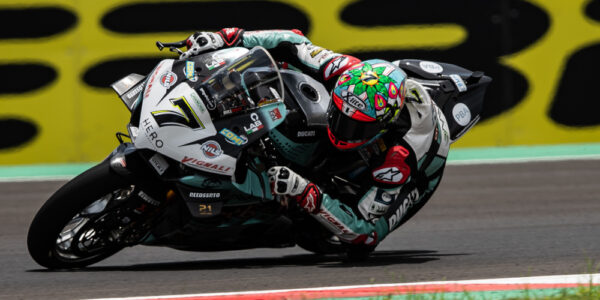 DAY ONE IN INDONESIA; OPENING DAY, ALL THE RIDERS ARE CLOSED IN A FEW TENTHS GAP!
The curtain has finally risen at the Mandalika Circuit! First day of sessions held in warm but optimal conditions, with all the riders enjoying the splendid layout, made up of the right mix of fast, slow and straights areas. Chaz Davies gradually became familiar with the circuit of the island of Lombok, without taking unnecessary risks and without pushing too hard, on what was the last Friday of the year.
In FP 1 the riders made the first laps cautiously to learn the track, then from mid-session onwards the times improved a lot. Chaz and Team Go Eleven used the same tyres for the entire 45 minutes of the session, making over 20 laps. Taking his time before starting to push, the Welsh rider improved lap after lap until he reached 37.4. At the end of FP 1 the gap between protagonists, from the second to the thirteenth, are all in a second. Times not yet significant, due to a track that needs to have some more tyre on it, after the initial really low grip.
Free Practice 1:
P 1   T. Razgatlioglu   1.34.985
P 2   A. Lowes   + 1.544
P 3   G. Gerloff   + 1.600
…
P 13   C. Davies   + 2.496
The second session begins with about 55 degrees of asphalt, humidity around 90 percent and temperatures over 30 degrees. From the very first laps the track seems to have improved significantly compared to the morning, with the WorldSBK riders lowering their references. Chaz starts the session with an important change in the balance of the bike, in order to have more grip on the rear. With the SC0 he manages to lower about a second, thus preparing himself for the second run with the softer tyre. Unfortunately in the two best laps, when he was in line for a place in the top ten, a mistake at the last corner and some traffic penalised him, putting number seven in fifteenth position. Excellent sectors in the first and second splits, but in the last two there is still something to fix for tomorrow. The gap is however very limited, about a second between Chaz and second position, so with a few small changes a good result could be reached.
Free Practice 2:
P 1   T. Razgatlioglu   1.34.230
P 2   J. Rea   + 0.174
P 3   G. Gerloff   + 0.225
…
P 15   C. Davies   + 1.206
Chaz Davies (Rider):
"Interesting first day, really nice track here in Mandalika, the layout is nice and funny, it's everything as expected. As the day is gone on, the surface has improved, it's rubbed in a little bit and now has got a bit more grip than this morning. Overall, maybe, I am a bit disappointed, my laptime in the end I feel like I did not put everything together as well as it should be. There are a few things to work on with the bike and try to make a step forward, try to make the bike a little bit more calm in the fast areas. I think now I need to sleep on it and it's a good thing to be prepared for tomorrow. Enjoyable first day, I enjoyed the circuit, just I wish us a little bit faster!"
FRIDAY PICS (By Luca Gorini): CLICK HERE