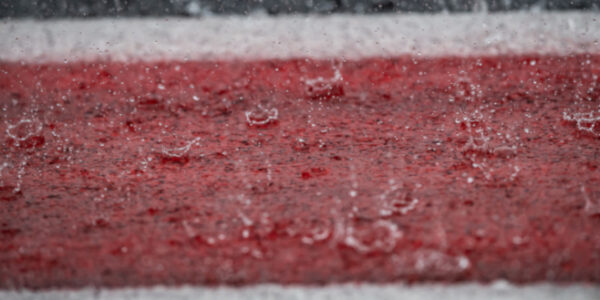 TROPICAL RAIN POSTPONES WORLDSBK SEASON FINALE TO TOMORROW!
Saturday at the Mandalika circuit ended with nothing to say; a classic tropical storm flooded the track just as the WorldSBK stars were ready to line up on the grid. All postponed until tomorrow, with two long races in one day.
The FP3 start off with the right feeling for Chaz, who, thanks to the changes made during the night, manages to improve his Best Lap, entering the top ten. Despite some problems still on the front, with a less than optimal feeling, the pace for the race is good, and the gap with the first five positions is around half a second.
Free Practice 3:
P 1   S. Redding  1.33.486
P 2   T. Razgatlioglu   + 0.082
P 3   G. Gerloff   + 0.552
…
P 9   C. Davies   + 1.303
In Superpole Chaz decides to use the two tyres available for the qualifying; with the first Q he does not find the necessary feeling and sets a rather high time. He comes back to the pits, quick tyre change, and back in again for the last qualifying of the year. In the first two sectors the Welsh rider is almost perfect, lighting excellent partial times in line with the first row, then in the fourth sector he makes a mistake by going slightly wide at the penultimate corner. Unfortunately with the gaps so close, the tenths lost forced him in the fourth row, eleventh position on the grid of Race 1.
Superpole:
P 1   T. Razgatlioglu   1.32.877
P 2   J. Rea   + 0.324
P 3   S. Redding   + 0.379
…
P 11   C. Davies   + 1.550
There is little to tell about Race 1 and the opening photo says it all. Just as the riders leave the pits to go to the starting grid, a tropical storm hits the Mandalika circuit, forcing the organization to change the programs. No races today, all postponed to tomorrow, with two races that will be held over the long distance, thus eliminating the Superpole Race.
SUNDAY SCHEDULE:
Warm Up: h 9.00 – 9.15
Race 1: h 11.00
Race 2: h 15.00 
Chaz Davies (Rider):
Today I felt better with the bike this morning, in the second run we made some changes and it was better. In the Superpole my first part of the lap was really good, then in the second half I struggled with the feeling of the Q, it dropped quite a lot, especially with the first one. Then we put the second Q, I was thinking too much on what I felt with the first one, so I didn't do a good job in the last half of the lap. It's a bit disappointing not to do such a good lap. Then I was waiting for the race, but we got way too much rain, unfortunately they had to postpone the Race, which is a shame for the Indonesian fans that were here today. Hopefully everybody comes back here tomorrow and we can enjoy two full races. Today there was a crazy amount of water. I am feeling good for Races!"
SATURDAY PICS (By Luca Gorini): CLICK HERE
CLICK HERE