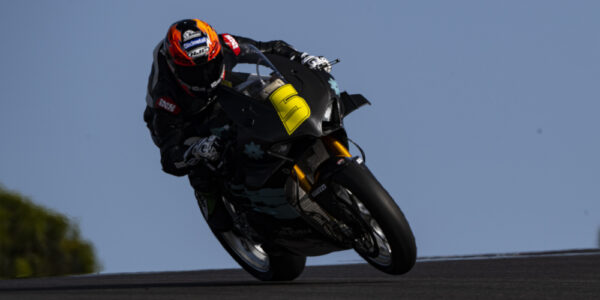 WHAT A FIRST TIME, PHILIPP!
Two days of testing in Portimao, on the spectacular Algarve track, marked Philipp Oettl's debut on the Ducati Panigale V4-R Go Eleven! Although it was the beginning of February, the weather and track conditions were almost perfect, with temperatures around twenty degrees and sunshine.
In the first session the German rider goes on track with a basic set-up coming from last year's race; session after session, the team tried to get to know and get in touch with Philipp's working method, making small steps forward each time he entered the track. Oettl's approach was really professional, changing a little in terms of set-up and trying to focus more on ergonomics and riding position. At the end of the first day, the Go Eleven rider concluded just one second far from the top, surprising everyone with his immediate speed and confidence with a powerful and particular bike as the Ducati V4-R.
DAY 1 RESULTS:
P 1   J. Rea   1.40.621
P 2   T. Razgatlioglu   + 0.101
P 3   A. Bautista   + 0.132
…
P 7   P. Oettl   + 1.086
On the second day Philipp, who does not have a particular feeling with the splendid Portuguese track, concentrated his work on finding the perfect seat's height and the position of the handlebars, in order to find a definitive solution for the rest of the season. In the afternoon the interest moves to the tyres, trying different compounds, but without using the new "super soft" SCQ, in this two days only available to riders with more experience in Superbike. Oettl has always constantly improved his references, and, despite a small crash without consequences, at the last exit he improved a further two tenths of his best. It should be emphasized that Oettl's laptimes came with a racing tyre, always riding alone and without following the slipstream of other protagonists.
DAY 2 RESULTS:
P 1   T. Razgatlioglu   1.39.616
P 2   J. Rea   + 0.235
P 3   A. Bautista   + 0.439
…
P 6   P. Oettl   + 1.445
An excellent start for the Go Eleven, the team members, at the first test together, immediately had an excellent relationship with the rider. Now we will have to continue the work and development in view of the next pre-season tests, which will be held in about a month, on the Misano home track. After this start, the Team can't wait to get back on track!
Philipp Oettl (Rider): 
"The first day of testing was more about getting to know the bike, the electronic set-up, the work with the Team and starting to concentrate on the ergonomic. The second day we started focusing on the ergonomic, too, with different handlebars, seat position and testing a new higher seat. It seemed that we found a quite good set-up for me, I felt quite comfortable on the bike. When we tried the "old" qualifying tyre I had a small crash, but nothing too serious. After I was able to improve again with race tyre. At the end we did some start practices, too. Riding the superbike is quite complex, there are many areas on which you can work, but now we have some important informations regarding the riding style, regarding what is necessary to do with the Ducati Panigale V4-R. I am really happy about this two days here, now I will try to get ready for Misano test!"
Denis Sacchetti (Team Manager):
"I think Philipp surprised everyone, including me! The time he has set is really good for his first time on a Superbike, especially on one of the toughest tracks in the World Championship. This obviously makes us happy, but the important thing is the feeling he had right from the start with the bike and with the team. The goal of this test was to learn and get to know each other, he with the team and with Ducati, find the right ergonomics on the seat and find the right method of working together. I would say we did it. I'm happy with Philipp's work, and I like how he works on himself, he learns really fast and that is amazing! Very good job, but now we have to continue like this!"
PICS DAY 1: CLICK HERE
PICS DAY 2: CLICK HERE