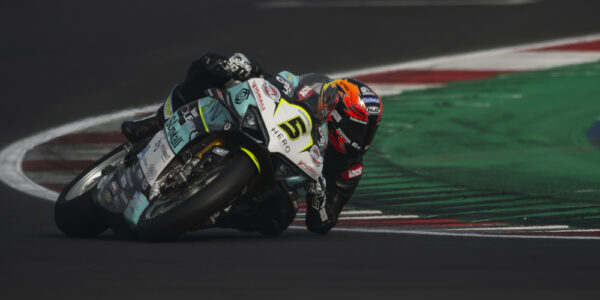 SATISFYING DAY 1 FOR PHILIPP OETTL RIDING THE GO ELEVEN DUCATI!
Just a couple of days after the presentation of the new 2022 Go Eleven livery, the Piedmontese team, with the young rider Philipp Oettl, takes to the track for a two-day test on the Misano track. Here, the Superbike will return in June with the only Italian round on the calendar, making these two days of free practice even more interesting.
The track conditions today were quite good, despite the cold and low temperatures typical of the month of March. The asphalt increase until twenty-two degrees, still allowing the teams present to carry out a full day of work. Team Go Eleven brought several new features to the track, including an updated exhaust and new forks. Oettl regained the confidence left in the Portimao tests, immediately proving to be fast in the morning and closing the first four hours near the wall of 1'35″000. In the afternoon the work moved on to the tyres; Pirelli brought some development tyres, requesting a comparison between the classic compounds used up to now and the new solutions. Towards the end of the day the references of the first three riders dropped by a few tenths, and Philipp managed to drop below 35, printing the best lap in 1'34″951. The team was satisfied with the progress achieved during the day, especially with the pace set by the German rider, who was able to set a constant pace in each session.
Day 1 Results:
P 1   A. Bautista   1.33.983
P 2   G. Gerloff   + 0.393
P 3   M. Rinaldi   + 0.478
P 4   L. Baz   + 0.934
P 5   P. Oettl   + 0.968
Tomorrow the team will concentrate on carrying on the work started today, following the set-up direction chosen during Day 1; the goal is always to meet Oettl's riding style, thus helping him in his transition from 600 to 1000, a step that requires a significant change in his style.
Philipp Oettl (Rider): 
"Nice first day here in Misano! The temperatures were a bit cold, but we did almost all the plan and we had the possibility to test all the new parts. In the morning I had a good feeling with the bike, while in the afternoon we test the new Pirelli tyres with new set-ups. Today we collect a lot of datas, now, before dinner, we will have a quick meeting to discuss what is good and to understand the correct way for tomorrow. Anyway I enjoyed today, the laptime is good compared the the others, so we keep forward to Day 2!"
Denis Sacchetti (Team Manager):
"Today the weather was quite mild, a bit cool, but it allowed us to complete an excellent day of testing. Philipp today restarted from the work he left in Portimao, then tried different set-ups, listening to the feedback after each session. We also got to use the new Ohlins fork, the latest version, and Oettl gave positive feedback. The lap time today was not the goal, but I'm happy with both the Best Lap and the race pace. We collected several important datas today, which will allow us to face tomorrow and the next pre-season tests better and with a precise direction. "
DAY 1 PICS: CLICK HERE