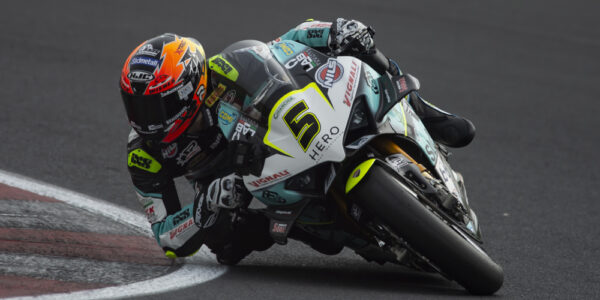 OETTL SURPRISES IN MISANO TEST – DAY 2!
Second and last day of testing at Misano; the lower temperatures compared to yesterday limited the schedule for making comparisons with Wednesday. However, the WorldSBK riders were able to complete the working day without being affected by the bad weather.
Philipp Oettl, with the Team Go Eleven Ducati V4-RS, surprised by the speed of adjustment to the main category, always remaining calm and focused on the work schedule. In these two days the team had several technical tests, and also during the second day there was no lack of news. The German rider first had to make a comparison between different rear shock solutions, then, once the direction was chosen, the focus moved to the braking area, with an innovative Brembo caliper. As always in these cases, the comparisons were carried out in the race configuration, so much so that Philipp showed an excellent pace, constantly remaining below 35. In the warmest hours, the number 5 rookie had the opportunity to try two soft tyres, the 557 that last year more than once proved to be successful also in terms of the race. In the morning, a few minutes before the end of the first session, Philipp signed a 1'34 "214, which brought him to the top of the provisional ranking, generating a mix of amazement and admiration among the professionals, since it is only of the fourth time on a Superbike. In the afternoon the work returned to focus on the comparisons between components and the race simulations, concluding with a series of start practices.
Day 2 Results:
P 1   A. Bautista   1.33.574
P 2   G. Gerloff   + 0.112
P 3   L. Mahias   + 0.484
P 4   P. Oettl   + 0.640
Despite the low temperatures, in these two days everything went according to plan for Team Go Eleven and Philipp Oettl; the team is more and more in harmony and also in the box there is a nice relaxed atmosphere. Philipp's riding style is adapting more and more to Ducati horses and electronics, and test after test progress can be seen. The next appointment is in about a week, on the Barcelona track!
Philipp Oettl (Rider): 
"Today it was another positive day, we tried a lot of different things again. I think our package is not so bad. We did also a long run which was good, then at the end of the day we did also some starts. We still try to find the best package for us, but I think we are quite close. Now it's more about how to ride the bike, I think we did a good step from Portimao to Misano. Now we have a short period of time, but I think we can find some small details during those few days off. In Barcelona we will have two more days before Aragon, we have still some things to try, then we will be ready for Aragon!"
Denis Sacchetti (Team Manager):
"I am really happy and positively surprised by these two days of testing at Misano! Today we concentrated on testing some components, mainly different rear shock solutions and the new Brembo calipers. They both gave positive feedbacks, so much so that we closed the morning as the fastest on the track. Oettl is a rookie and being among the first is a good message. In the afternoon we concentrated on consistency, we ran a race simulation, and the pace is not bad. We stopped a bit sooner than expected because it became cold and the track conditions had changed so much that the indications were no longer true. Now we are going back home and working towards the Barcelona test; we still have some ideas to try, the rider's feeling is always in growth, as well as its adaptation on the bike!"
DAY 2 PICS: CLICK HERE