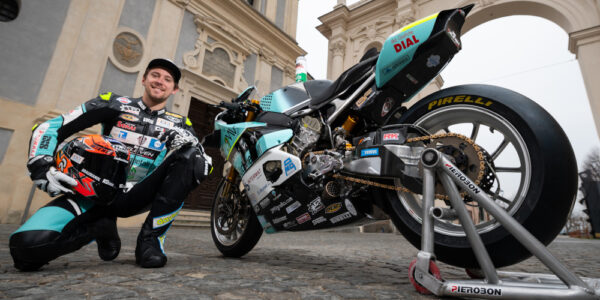 NEW 2022 GO ELEVEN LIVERY UNVEILED!
In Cherasco, the Langhe's door, a small characteristic town surrounded by UNESCO heritage hills, home to Team Go Eleven, took place the presentation of the new livery of the Ducati V4-RS with which Philipp Oettl will be on track in the 2022 WorldSBK season!
For the first time since the beginning of Covid 19, the event was able to be held in the presence, with a restricted number of guests, including sponsors, collaborators, journalists and members of the Team. A unique emotion, which marks a gradual return to normality, and throws the last two years spent "behind closed doors" into the past.
Philipp Oettl was thus able to discover his bike, his Panigale, together with the official suit, both of which have been updated in graphics compared to the 2021 season; blue, black and white, colours that distinguish and make the Go Eleven Team unique in the WorldSBK paddock, have remained central, flanked by showy fluorescent yellow details. The right mix of elegance, visibility and colors!
Beautiful in the photos and videos while standing, but now it's time to see her on the track! Next March 16th and 17th there will be the opportunity to observe the new livery in action; the team from Piedmont and the German rider Philipp Oettl will compete in a two-day test on the Misano track, with the aim of preparing for the start of the season and for the Italian WorldSBK event to be held in June!
NEW LIVERY PICS: CLICK HERE