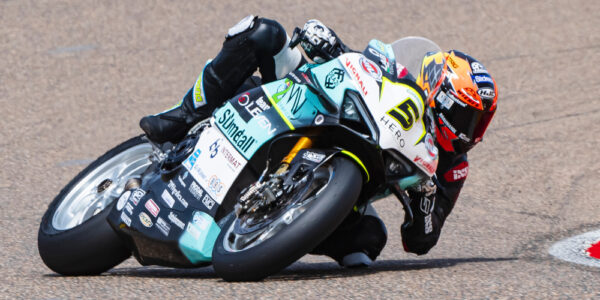 DAY 1 – ARAGON – SUPPORTED TEST; PHILIPP FINISHES CLOSE TO THE TOP TEN!
Finally the first week of racing has come! WorldSBK toes on track for a two-day Supported Test at Aragon, the same track on which, next weekend, the protagonists will kick off the WorldSBK.
The temperatures certainly did not help teams and riders, since the freezing cold, with temperatures around 0 ° C, forced most of the teams to make a few timed laps. From the second session onwards, the sun showed up at Motorland, warming the track and air, thus giving the riders the opportunity to push. Philipp used race tyres, the harder compound, looking for the right references of lines and brakings, different from those used with the smaller bikes. Right from the start he felt at ease, constantly improving lap times. A two-hour break after FP2 allowed the riders to carry out a quick debrief with the technicians to improve feeling and set-up ahead of the last session of Day 1. The last 45 minutes, FP3, proved to be the faster session for many riders. The asphalt temperatures reached 25 degrees, thus giving greater confidence especially on the front. The German homeowner Go Eleven set excellent times on both hard and soft tyres, dropping below 51. With the best time of 1.50.713 he finished close to the Top ten, 3 tenths from fourth place.
DAY 1 – COMBINED RESULTS:
P 1   J. Rea   1.49.394
P 2   T. Razgatlioglu   + 0.016
P 3   A. Bautista   + 0.631
P 4   G. Gerloff   + 0.726
P 5   A. Lowes   + 1.029
…
P 12   P. Oettl   + 1.319
There is still a lot of work to do to get ready for the first Friday of the year, but the start is cpositive and Oettl's feelings are good. In the evening today the Go Eleven technicians will work to fix the corner entrance and the T 2, the two most critical points found during today's tests.
Philipp Oettl (Rider): 
"Today it was a new day on a new track with the Superbike, I am happy by the moment, we made some good steps in the right direction. If we continue like this also tomorrow, I think it would be great. I still have to adapt my riding style to Aragon with the Ducati V4-RS. It's not easy to learn fast, but we are on the right way, but we need to keep working!"
Denis Sacchetti (Team Manager):
"This morning when we woke up it was really very cold, I thought it was a lost day; in reality then in the afternoon the temperature warmed up a bit and we were able to get out on the track in good conditions. There was even more grip than during last year race. We managed to work well, both in the tyre comparison and on the electronics settings. We collected a lot of data that will help us face the race weekend in the best possible way. Philipp's adaptation is proceeding well, he manages to be fast on all tyres. I'm happy with both the team's work and Philipp's, even though it will probably be much warmer at the weekend than today's conditions. "
DAY 1 PICS: CLICK HERE