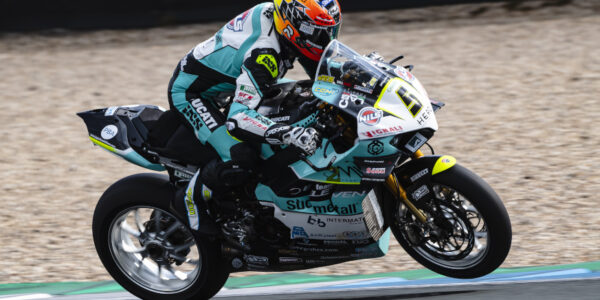 DAY 1 – ASSEN; GOOD PACE, THAT'S A PITY WE MISSED A COUPLE OF TENTHS IN THE FASTEST LAP!
A Friday characterized by good weather and rather mild temperatures, around 18 ° C, has just ended in Assen! The Superbike riders had the opportunity to become familiar with the asphalt, to adapt the set-ups to the historic Dutch track, very different from Aragon, where the first Round took place, and almost unique in its layout.
Philipp Oettl took advantage of FP 1, which took place in the morning in cold asphalt conditions, to take the references along the track, as it was the first time riding a 1000 cc here in the Cathedral of Speed. With SC0 compound, the hardest tyre, he completed over 20 laps, making his Best Lap on the last available one, demonstrating great consistency and solidity, even in poor grip conditions. Towards the end of the session, many opponents have already used a soft tyre, significantly lowering the references.
Free Practices 1:
P 1   T. Razgatlioglu   1.34.466
P 2   I. Lecuona   +0.418
P 3   A. Bautista    +0.780
…
P 14   P. Oettl    +2.273
The FP 2 started with much milder temperatures, the asphalt around 30 ° C, warmed by a warm sun. Team Go Eleven opted to use two SCX tyres, also doing a race simulation with the first tyres. The German rider took to the track aggressively, significantly improving the time of the morning and entering the top ten positions. Then, just as he was making an excellent time, a red flag caused by the crash of another rider forced him to abort the lap. Back on track he was able to lower again, despite complaining of movements on the rear. A short stop in the pits, just enough time to change tyres and some changes on the rear shock, and the FP2 has come to life; Philipp went out on the track charged and motivated to attack the time, but a too aggressive riding style penalized him, making him lose the first two laps with small mistakes. When he was able to calm down, he set his pace on 35.7, repeating it several times, thus showing a good potential looking for the race, finishing twelfth, two tenths from the Top 8. Too bad for not having fully exploited the potential, as there were at least two or three tenths of a margin, but today the position is not essential.
Free Practice 2
P 1   A. Bautista   1.34.382
P 2   J. Rea   + 0.298
P 3   A. Lowes   + 0.390
…
P 12   P. Oettl   + 1.341
For tomorrow's day it will be necessary to improve a little more to limit the movement of the bike, especially during the race. In Qualifying it will be essential to put everything together and make as few mistakes as possible; a very short ranking is expected, in which a few cents could cost the grid row.
Saturday Schedule:
h 9.00 – 9.30 FP 3
h 11.10 – 11.15 Superpole
h 14.00 Race 1
Philipp Oettl (Rider): 
"I think it was a positive day! We improved a lot from FP 1 to FP 2, but it's such a difficult track for a 1000cc bike! Today we did a good job, our paces is quite strong, we could have done a bit better on the fastest lap, but it was not the main goal of today. Now we keep working and we compare the data, to understand where we miss a little bit, and then we will get back ready for tomorrow!"
Denis Sacchetti (Team Manager): 
"I'm happy with this first day here in Assen! In my opinion we did an excellent job, both with used and new tyres, the race pace seems to be good for fighting in the Top Ten. Today we also did some set-up tests, working mainly at the rear, better understanding the direction to take for tomorrow. The position, however, is not bad for a rookie here, let's see what awaits us tomorrow!"
DAY 1 PICS: CLICK HERE