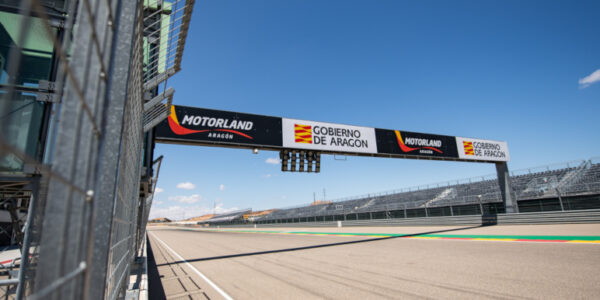 AT LAST…THE FIRST 2022 WORLDSBK ROUND!
WorldSBK is now in its first race of the 2022 season! In the paddock there is a mixed air made by emotion, tension and the desire to show off. Everyone, from the riders to the team members is keen to start in the right way; from now until mid-November the WorldSBK action will keep you glued to the screens.
Team Go Eleven and Philipp Oettl are ready to take to the track at Motorland in Aragon, theatre of the first race of the season, yearning for putting into practice the good feelings had during the winter tests. Right here, in the Aragon region, between Barcelona and Zaragoza, the German rider proved to be quite fast in the two days of testing, raising the bar on the final session, when he managed to hit the Top Ten. Warmer and more welcoming temperatures than the cold of the last few days await, a factor that could considerably affect both the grip of the track and the choice of tyres. On Friday, with the two free practice sessions, it will be essential to carry out comparisons with a view to the race.
After much discussion, after so long waiting, it will be the track that will provide the first results of the season; from tomorrow everyone will push to their limits to understand their potential and that of their opponents. We just have to turn on the TV, follow the weekend in Spain and wait until Friday evening for the first feedback!
The Aragon WorldSBK schedule:
Friday 08-04-2022:
h 9.45-10.15, Supersport 300, Free Practice 1
h 10.30-11.15, Superbike, Free Practice 1
h 11.25-12.10, Supersport, Free Practice 1
h 14.15-14.45, Supersport 300, Free Practice 2
h 15.00-15.45, Superbike, Free Practice 2
h 16.00-16.45, Supersport, Free Practice 2
Saturday 09-04-2022:
h 9.00-9.30, Superbike, Free Practice 3
h 9.45-10.05, Supersport 300, Superpole
h 10.25-10.45, Supersport, Superpole
h 11.10-11.25, Superbike, Superpole
h 12.40, Supersport 300, Race 1
h 14.00, Superbike, Race 1
h 15.15, Supersport, Race 1
Sunday 10-04-2022:
h 9.00-9.15, Superbike, Warm up
h 9.25-9.40, Supersport, Warm up
h 9.50-10.05, Supersport 300, Warm up
h 11.00, Superbike, Superpole Race
h 12.30, Supersport, Race 2
h 14.00, Superbike, Race 2
h 15.15, Supersport 300, Race 2
Philipp Oettl (Rider): 
"We are at the first race of the year! Tomorrow we have two practice sessions, we want to try to improve the feeling with the bike a little bit. After the two days tests we had a long discussion, especially on Tuesday. I think that day I left the paddock at 23.00, because we have still many things to understand and analyze. I just want to ride and feel the bike, and to see how my Ducati will react in warmer conditions. I am quite positive, I think we can have a good weekend!"
Denis Sacchetti (Team Manager):
"Here we are, on the eve of the start of each World Championship there is always a lot of excitement and anxiety, but also a great desire to start "playing" with open cards and have fun! We did a good pre-season, we did and completed our work schedule, and I think we were a bit of a surprise with these tests! At the weekend it will be much warmer than on Monday and Tuesday, so the grip conditions will change and the bike setting will need to be adjusted. I wish everyone good luck and may the strongest win!"