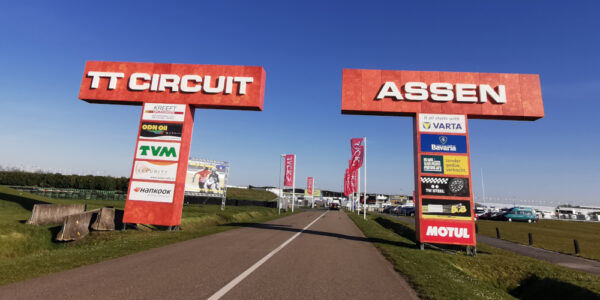 THE CATHEDRAL OF SPEED WELCOMES WORLDSBK!
WorldSBK is back on one of the most iconic tracks in two-wheel history; the TT Circuit Assen! Spectacular layout, consisting of 18 turns, spread over 4,552 meters, a mixture of fast turns and chicanes, the scene of immense battles. For the first time in the Post-Covid period, WorldSBK will fully open its doors to the public, with no particular restrictions; a unique event will welcome the protagonists of the Superbike!
Philipp and Team Go Eleven reach the second round of the season after a good debut in Aragon, where they finished close to the top ten, in the middle of point zone. A convincing performance that will also have to be confirmed on Dutch soil, on a track that the German rider particularly loves, but which has not always been favorable to the Ducati Panigale V4-RS. The main point on which the Italian team will focus will be the end of the race; in Aragon, when the tyres dropped, the performance decreased slightly, thus having to leave the fight for the Best Independent. From Assen onwards, it will be necessary to focus on this aspect. In the meantime, between the two WorldSBK Rounds, Philipp was able to participate and finish an iconic race, the 24 Hours of Le Mans, riding the Ducati. Philipp proved to be the fastest of the Team, gaining more and more confidence stint after stint; a really good "training", tiring and exhausting, in view of the three WorldSBK manches!
The Assen WorldSBK schedule:
Friday 22-04-2022:
h 9.45-10.15, Supersport 300, Free Practice 1
h 10.30-11.15, Superbike, Free Practice 1
h 11.25-12.10, Supersport, Free Practice 1
h 14.15-14.45, Supersport 300, Free Practice 2
h 15.00-15.45, Superbike, Free Practice 2
h 16.00-16.45, Supersport, Free Practice 2
Saturday 23-04-2022:
h 9.00-9.30, Superbike, Free Practice 3
h 9.45-10.05, Supersport 300, Superpole
h 10.25-10.45, Supersport, Superpole
h 11.10-11.25, Superbike, Superpole
h 12.40, Supersport 300, Race 1
h 14.00, Superbike, Race 1
h 15.15, Supersport, Race 1
Sunday 24-04-2022:
h 9.00-9.15, Superbike, Warm up
h 9.25-9.40, Supersport, Warm up
h 9.50-10.05, Supersport 300, Warm up
h 11.00, Superbike, Superpole Race
h 12.30, Supersport, Race 2
h 13.45 Supersport 300, Race 2
h 15.15 Superbike, Race 2
Philipp Oettl (Rider): 
"I think we can do another solid weekend here in Assen! After the 24 hours of Le Mans, I think I learned a couple of things more. I am happy to be back on the shorter Races, I am happy this weekend there is not a 24 hours Race, too. I am ready and motivated, I like this track, I want to give my maximum and improve our package, then let's see what happens!"