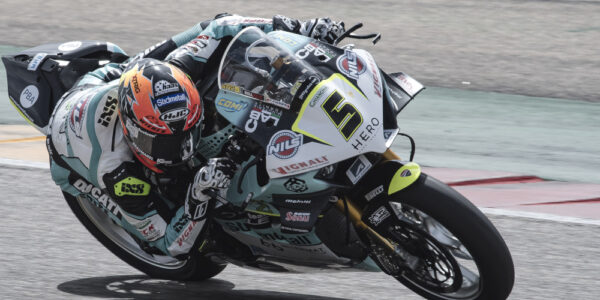 OETTL FOCUSED ON THE RACE PACE IN FP1 – FP2!
The first free practice sessions is in the books, immediately demonstrating some new features of the WorldSBK format. Since 2022, the teams have available some SCQs, qualifying performance tyres, which they can also use during practice sessions. The values in the field are thus slightly altered, not allowing to carry out an analysis based only on the combined ranking.
The FP 1 were very positive for Philipp, first making a long stint with the harder compound, then focusing on the SCX in the final minutes. The German rider and the Go Eleven technicians had to re-set the Ducati Panigale V4-RS to the warmer temperatures. At the end of the session, Oettl signed a significant 1.50.641, which placed him in tenth position.
Free Practice 1:
P 1   J. Rea   1.49.301
P 2   T. Razgatlioglu   + 0.364
P 3   M. Rinaldi   + 0.699
…
P 10   P. Oettl   + 1.340
FP 2 started with a warmer asphalt, still slightly changing conditions compared to the morning. Philipp and Team Go Eleven took advantage of the session with schedule and conditions more similar to long races to carry out Long Runs. First the used tyre from FP 1 was taken to the end, then the German rider made 14 laps on new tyres, covering a distance of about 2/3 of the race. It was important for the 26-year-old rookie to understand his reaction to the drop of grip, and to adapt his style accordingly in the last part of the race. Towards the end of the session many riders used a qualifying tyre, making a clear step forward, improving by about half a second; Team Go Eleven preferred to save some stickers (which limits the maximum number of tyres used in the three days) for the rest of the weekend at Motorland.
Free Practice 2:
P 1   A. Bautista    1.49.606
P 2   J. Rea   + 0.024
P 3   T. Razgatlioglu   + 0.100
…
P 16   P. Oettl   + 1.598
Tomorrow from the first session, the Go Eleven Team will concentrate more to get ready to qualifying, a very delicate session which, if not prepared in the best way, could compromise the races; even today the protagonists of WorldSBK were all very close, and with a few tenths it is possible to climb the rankings. Let the Race Day begin!
Saturday Schedule:
h 9.00 – 9.30 FP3
h 11.10 – 11.15 Superpole
h 14.00 Race 1
Philipp Oettl (Rider): 
"I think today it was a positive day, but overall we will see tomorrow after the first race where we really are. We did a good job today, both in FP 1 and FP 2; in the second session we did a Long Run, which is important to understand the actual conditions. Compared to the tests, it's much warmer, but I am happy about the feedback. Now we analyze the datas, then for FP 3 we have a different plan, to get prepared for the Superpole. Then we will see what happens. I am curious for the first Superpole and for the Race!"
Denis Sacchetti (Team Manager):
"Today we did some set-up tests on the front, trying to improve the turning with used tyres, to get used to long distance races. It is difficult to understand our current level because, with the introduction of the new SCQ rear tyre, some riders have already tried it today by simulating the distance of the Superpole Race, and therefore mixing a bit the ranking. Tomorrow after the first race we will have a better idea about it and we will also know the points we should work on, us as a team and Philipp on tyre management!"
FRIDAY PICS: CLICK HERE