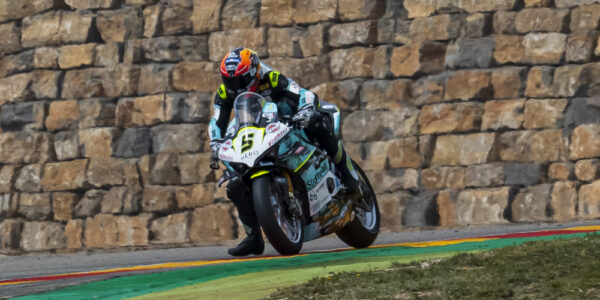 ALMOST DONE YESTERDAY, DONE TODAY; OETTL CLOSES THE ARAGON TEST IN TOP TEN!
The long WorldSBK winter is finally over! Last day of testing in Aragon behind us, now there are two days left for the official start of the Championship.
Day 2 at Motorland was very similar to day 1 in terms of temperatures; a first session in critical conditions, with about five degrees in the air and about ten on the asphalt, then with the passing of the hours the sky opened, warming up riders, motorcycles and technicians. FP 5 and FP 6 were two decisive sessions for the Go Eleven team; in the first, Philipp made a consistent long run, to evaluate the drop of the tyres and the behavior of his Ducati V4-RS on this particular track, made up of ups and downs, very technical corners and long straights. In the second, the work was concentrated on the qualifying tyres, which from this year allow for at least a couple of laps in good conditions. On the race pace, the German rider seemed to be well on the Ducati, setting a good pace on 51 and battling with some opponents as well. But it was in the last session that he showed the best things: with the SCX he was able to improve even more, placing himself in the top eight, then at the end all the protagonists tried the time attack. Oettl was able to exploit the Q well, lowering his personal reference by six tenths, returning and finishing the two days in the Top Ten.
DAY 2 – COMBINED RESULTS:
P 1   J. Rea   1.48.714
P 2   T. Razgatlioglu   + 0.354
P 3   A. Bautista   + 0.380
P 4   G. Gerloff   + 0.521
P 5   L. Baz   + 0.669
…
P 12   P. Oettl   + 1.372
There will now be a two-day break before seeing the Superbikes in action at Motorland again, when the 2022 season will kick off on Friday. Go Eleven and the rider Philipp Oettl can't wait to hit the track for the times "that matter", and evaluate the real potential when there are no more masks and everyone will push 100%.
Philipp Oettl (Rider): 
"Today it started again a little bit cold, cause we started earlier than yesterday. In the second session we did a long run, to understand the tyres and the electronics settings, trying to adapt my style to the tyre drop. In the last session we tried mainly the qualifying tyre, to understand its feedback. I think we did a good job because I can't use the first two Q, then I found out how to use the last one. We are going in the right direction for the race weekend, especially the last session was really good. That was important because it was the last one and everyone tried to push. We did a good job in these two days, overall all the tests we had were good and in improvement. I am happy with the team, they are working very well. Now I have two days of relax, while the guys will prepare the bike, and we can't wait to be on track again!"
Denis Sacchetti (Team Manager):
"We are also very happy with this last day of testing. This morning the temperatures were as low as yesterday, however, as we already faced yesterday, the track has a lot of grip and we could run right from the start. We carried out and completed our program without any particular problems, making both a long run with a view to the race and some attempts with the new qualifying tyres. Both have been very positive and I am happy with the work of the team and with Philipp's approach; he faces the session as a long-time rider, despite being a rookie. Throughout the winter we had no particular difficulties, managing to complete all the prefixed work, with good results. Now there is still a lot to work on and grow on, we are not satisfied with what we have done so far, we still want to improve and look forward. We will do our best to be competitive from the start and to collect the good things done in the winter!"
DAY 2 PICS: CLICK HERE