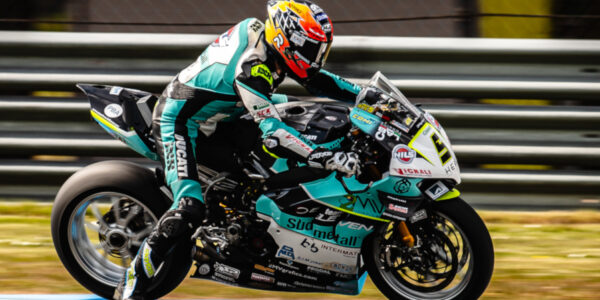 THE WORLDSBK RE-STARTS FROM ESTORIL, GO ELEVEN AND OETTL STARTS FROM THE EXCELLENT SPEED SHOWN IN ASSEN!
One month after the Dutch stage at TT-Circuit Assen, the protagonists of the Superbike World Championship are back on the screen; the Estoril track, 4,182 meters, 13 curves, just outside Lisbon is ready to welcome the third World Championship round!
Go Eleven and the promising German rider Philipp Oettl arrive in Portuguese soil in search of redemption after the unlucky Race 2 at the Cathedral of Speed, when the dreams of a first Top 5 of the season had collided with a technical problem. Now, however, the past is behind us, and it's time to get back on the bike, even more ready and aggressive, to show the great potential shown in the first two Rounds; Round after round, Philipp is adapting more and more to the Ducati Panigale V4-R, also helped by the excellent feeling with the team. In Assen there was a big step forward between Friday and Saturday, with greater fluidity in riding, which helped him to be among the fastest in the final race; here, on a different track than the previous one, it will be necessary to reconfirm and start again from where he left off. The goal, of course, is not to play for the top five positions, but to demonstrate consistency and speed also in Estoril, fighting within the Top Ten, taking home important points in the two main races. Philipp likes particularly this Portuguese track, in the past editions he has achieved 3 podiums in Supersport, showing great fights and an excellent feeling here.
Tomorrow afternoon, after free practice we will have a clearer idea of ​​what the Estoril stage can give Team Go Eleven, let the weekend begin!
The Estoril WorldSBK schedule:
Friday 20-04-2022:
h 9.45-10.15, Supersport 300, Free Practice 1
h 10.30-11.15, Superbike, Free Practice 1
h 11.25-12.10, Supersport, Free Practice 1
h 14.15-14.45, Supersport 300, Free Practice 2
h 15.00-15.45, Superbike, Free Practice 2
h 16.00-16.45, Supersport, Free Practice 2
Saturday 21-04-2022:
h 9.00-9.30, Superbike, Free Practice 3
h 9.45-10.05, Supersport 300, Superpole
h 10.25-10.45, Supersport, Superpole
h 11.10-11.25, Superbike, Superpole
h 12.40, Supersport 300, Race 1
h 14.00, Superbike, Race 1
h 15.15, Supersport, Race 1
Sunday 22-04-2022:
h 9.00-9.15, Superbike, Warm up
h 9.25-9.40, Supersport, Warm up
h 9.50-10.05, Supersport 300, Warm up
h 11.00, Superbike, Superpole Race
h 13.30, Supersport, Race 2
h 14.00 Superbike, Race 2
h 15.15 Supersport 300, Race 2
Philipp Oettl (Rider): 
"Estoril is a Circuit that I know well since the last two years! I can't wait to start again working with the Team after this month away from racing, we have to work step by step. Today we will discuss about the strategy for the weekend, I know it will be different on this track with the Superbike, but we will focus on ourselves, trying to prepare the bike and myself as good as possible for the race. I want to continue working on the riding style direction as we did in Assen, I still want to make my riding style more suitable for this bike, then we will see what will be the result. If we can do similar to the first two races, that would be a great result!"