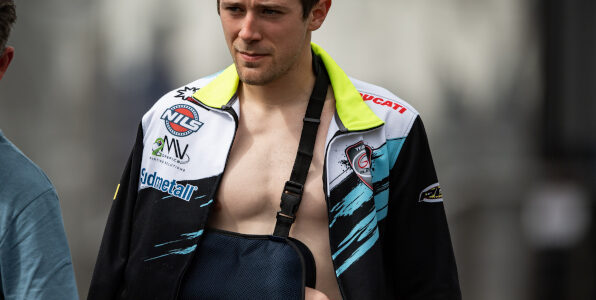 PHILIPP IS UNFIT FOR THE ESTORIL ROUND. XAVI FORES WILL JUMP ON GO ELEVEN DUCATI FROM FP3!
What a bad luck for Philipp! On the last available lap of FP 2, in which he was improving his time, finishing in projection in sixth place, he ran into an hard high-side out of turn 13. Impacting into the gravel, he suffered a displaced fracture of the right collarbone, resulting unfit for the continuation of the Portuguese Round. The operation has already been scheduled on Monday, in Germany, by a specialized medical team. Recovery times will be better defined a couple of days after the operation, but optimism filters in view of the next Round, in Misano, which will be held from 10 to 12 June. That's really a shame because even today the German rider was showing good confidence with the Ducati V4-R, continuing his growth path in WorldSBK. Unfortunately, these are the races and these are things that happen, hoping to see number 5 on the track as soon as possible, but without forcing recovery times.
Get Well Soon Philipp, we can't wait to have you back in our team!
Free Practice 1:
P 1   G. Gerloff   1.36.572
P 2   T. Razgatlioglu   + 0.204
P 3   A. Bautista   + 0.583
…
P 13   P. Oettl   + 1.543
Free Practice 2:
P 1   T. Razgatlioglu   1.36.290
P 2   A. Bautista  + 0.173
P 3   J. Rea   + 0.305
…
P 15   P. Oettl   + 1.423
The Go Eleven Team, in agreement with Philipp Oettl, will race with the Spanish rider Xavi Fores, currently engaged in Endurance with Ducati and in MotoE, who achieved six podiums in World Superbike, all riding the bike from Borgo Panigale. Xavi was already in Estoril for a commitment in the role of commentator, so the idea was born to honor the Round, fans and sponsors and not keep the bike in the garage, despite the limited time available.
Philipp Oettl (Rider): 
"What a pity about this injury! It just didn't take us now, as I was becoming more and more familiar with this Ducati. In FP 1 we rode the whole session with the same tyre, taking it beyond the race distance, then in FP 2 we were trying to get a good time on the SCX soft tyre, and right at the last corner I crashed with an hard highside! Rolling in the gravel I broke my collarbone, and will have to have an operation to recover as soon as possible. I was also lucky enough , however, because the crash was heavy, and the consequences could have been even worse. I thank the Team for the work done in this Round, we were also competitive here in Estoril and that's what counts. If everything goes according to plan, with a some optimism, see you in Misano!"
Xavi Fores (Substitute Rider):
"I am really happy with this opportunity to ride on a track and a bike that I really like. I was already on the circuit, my job this weekend was to be a commentator for Eurosport but when I received the news from the Go Eleven team I was really happy to be able to do so. It will be everything really fast, but I just think about having fun and doing a great job for the team. I send a big hug to Phillip and hope he gets well soon!"
Denis Sacchetti (Team Manager):
"I'm really sorry because Philipp is growing really fast, we were even more competitive here than in Assen and we didn't need this stop. It's an uncomplicated fracture and hopefully at Misano he will be ready to resume the growth path. Luckily Fores was already here, with him we can try some things on the bike we had in the thoughts and thus continue the development of our package. I am sure that his experience will be fundamental and I thank him for accepting this opportunity "
PICS FP 1: CLICK HERE
PICS FP 2: CLICK HERE