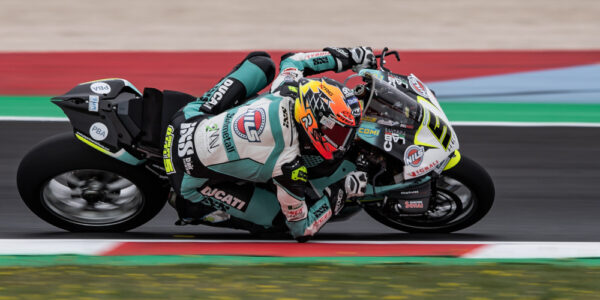 TOP 5 AT THE COMEBACK FROM THE INJURY!
The best Friday of the season so far, arrives at the least expected moment! Philipp Oettl, at the comeback from the injury with an operation on his right collarbone, sets the fifth time on the opening day of the Misano Round, less than half a second from the top. But let's go step by step…
The morning opens under a gray and unpromising sky, which, together with the cold air conditions the FP 1. Philipp takes to the track with the "traditional" compounds (remembering that here Pirelli has brought two evolutionary versions of the classic SCX), showing himself immediately at ease on the bike, with good confidence even in the right turns. Towards the middle of the session the rain wets the track slightly, but at the end the protagonists of the WorldSBK push back hard. Philipp, in agreement with the Team, finishes the tyres, without attempting the time attack. He finishes in the Top Ten about a second from the top.
Free Practice 1:
P 1   T. Razgatlioglu   1.34.603
P 2   A. Locatelli   + 0.241
P 3   J. Rea   + 0.264
…
P 9   P. Oettl   + 1.038

In FP 2 the German rookie shows a great pace right from the first laps; always in the first seven / eight positions throughout the session, he makes comparisons between the new rear solutions, obtaining a great feeling with his Ducati Panigale V4-RS. Towards the end of the session he returns to the track with the aim of attempting a time attack, but without using the Q, also evaluating some small adjustments required on the engine brake. With a clean lap and without forcing more than necessary, he sets the fifth position, following the "fantastic four" up front, finishing as the first Independent rider, and above all limiting the gap to under 0.5 seconds. An incredible performance, less than two weeks after the injury, which goes beyond the best expectations. The general shoulder pain is bearable, and more importantly, it doesn't affect Philipp's riding too much.
Free Practice 2:
P 1   A. Bautista   1.34.008
P 2   T. Razgatlioglu   + 0.107
P 3    J . Rea   + 0.126
P 4   M. Rinaldi   + 0.176
P 5   P. Oettl   + 0.490
Tomorrow will be much more complicated than today, as it will be necessary to evaluate Philipp's physical strength over the race distance. Today the pace was good for a result in the Top Ten, but there is still a lot of work to be done, especially in the area of the engine brake and the line coming out of corners. The most important thing is that it is racing day, from the Misano World Circuit!
Saturday Schedule:
09.00 – 09.30 FP 3
11.10 – 11.25 Superpole
14.00 Race 1

Philipp Oettl (Rider): 
"I am really happy with today, P 5 is a little bit more than we expected, the shoulder seems to work ok, I don't have so much pain, but I think for the race it will be a bit different, I will have to do many laps more. The bike works well, the team works well, I have a good feeling with my Ducati. In FP 3 I want to try to improve the engine brake, but everything else  is ok, and I am quite ready for tomorrow!"
Denis Sacchetti (Team Manager):
"Philipp today really surprised me, two weeks ago he was under surgery and today he got the best Friday of the season! In the morning he tried to regain the feeling with the Ducati, without going over the limit, then in the afternoon he was consistently in the top 8, then finishing fifth. I think we can still fix something especially in terms of the race, but if Philipp's shoulder doesn't cause him too many problems, we can get a good result!"
FRIDAY PICS: CLICK HERE