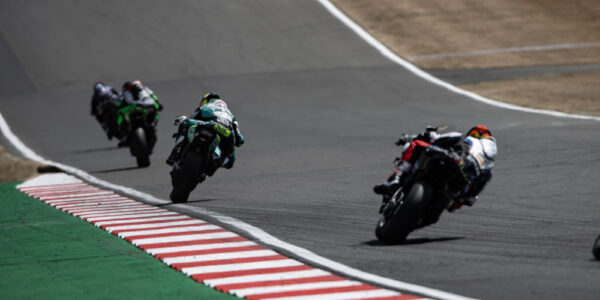 POSITIVE QUALIFYING, PENALTY COMMITTED, RACE 1 COMING BACK CLOSE TO THE TOP TEN!
Positive Saturday for Team Go Eleven and Philipp Oettl at Donington Park, where the German rider managed to come back in Race 1 after a penalty of three positions on the grid and a not very strong first lap, bringing him close to the Top Ten.
The morning started in the right way for the Piedmontese team; rookie number 5 tested two new rear tyres, but without taking advantage of the maximum grip offered by the SCQ, managing to clearly improve his laptime compared to Friday. Overall, Philipp feels quite well on the Ducati V4-R here at Donington, managing to be very determined and fast, especially in the first half of the track.
Free Practice 3
P 1   G. Gerloff   1.26.877
P 2   L. Baz   + 0.324
P 3   J. Rea   + 0.494
…
P 9   P. Oettl   + 0.807
In Superpole Philipp made a first lap remaining rather cautious, to set a lap and better understand the conditions of the track; today it was much warmer, forcing the riders to adapt their style accordingly. In the second attempt, however, he manages to give everything, showing excellent first two sectors, then defending himself in the second half of Donington; he ends in P 11, rather satisfied. As usual, with just one tenth better, we could have climbed a row, but it's still a good starting position.
Superpole:
P 1   J. Rea   1.26.080
P 2   A. Lowes   + 0.273
P 3   T. Razgatlioglu   + 0.426
…
P 11   P. Oettl   + 1.256
Race 1, as anticipated yesterday, saw the Go Eleven rider take off from fourteenth place, following the penalty obtained in FP 2. The sprint was not so bad, but then during the first lap Philipp suffered several overtakes from a couple of slower riders. Quickly getting rid of Haslam and Mikhalchik's BMW, Oettl set his pace at 28, closing the gap on the riders ahead of him. From mid-race onwards he manages to overtake Vierge, Mahias and Mckenzie, chasing the factory number 55 Yamaha. Philipp manages to close up to the 1.5s gap, but has to close in P 11, just outside the Top ten. Once again, very close to the goal, but we must be satisfied with the growingprocess of the young German. For tomorrow, both the rider and the technicians are aware of the areas where improvement is needed; it takes very little, now, to enter the ten, even here Donington, where Philipp has much less experience than his opponents!
Race 1:
P 1   T. Razgatlioglu   33'46.954
P 2   J. Rea   + 6.397
P 3   A. Lowes   + 9.499
…
P 11   P. Oettl   + 31.467
Sunday Schedule: 
Local time / Italian time
h 9.00 – 9.15 / 10.00 – 10.15 Warm Up
h 11.00  / 12.00 Superpole
h 14.00 / 15.00 Race 1
Philipp Oettl (Rider): 
"Today we had a better start compared to the previous races, then the first corner it was not easy. I was quite far behind, but I could catch up a little bit and overtake other riders. Tomorrow, starting eleventh, and repeating the start of today, we can fight for the Top ten and try to improve our grid position for Race 2. Our potential is to fight inside the Top ten, we showed it this morning, we were strong. In qualifying we had the same result as Assen, so that was not bad. I am half happy, half sad, because I always expect more, but we took point and overall, it was a solid result."
Denis Sacchetti (Team Manager):
"Today we expected a difficult race, the track is not favorable for us, we were unable to improve the last sector all the weekend long, our only weak point here at Donington, and we also had a penalty to serve. But we are happy because Philipp had a good race, he got the maximum possible, he made no mistakes and we have confirmed that his physical condition is back to 100%. We believe we have found some points to work on, which could help us to improve tomorrow, and this is a very positive thing, the team is giving their all and all together we are doing a great job"
SATURDAY PICS: CLICK HERE