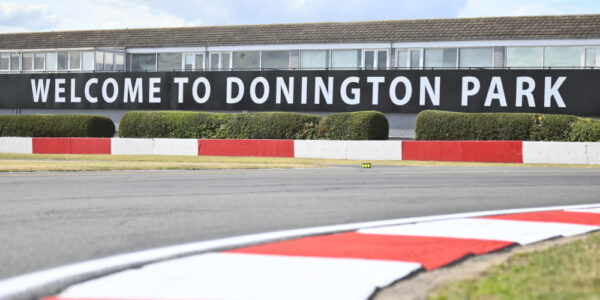 WORLDSBK IS BACK WHERE ALL BEGAN!
Donington Park, in 1988, the Superbike World Championship came to life; today, thirty-four years later, the Superbikes will battle on the famous English ups and downs to decide Round 05!
Philipp Oettl will learn about Leicestershire's 4020 meters on Friday, as he has never had a weekend of racing here in Donington. The track has always given great emotions, from the first sector to the Fogarty Esses, the line and the trajectory will be fundamental. High-speed corners, changes of direction and a few holes on the asphalt will accompany the riders throughout the weekend. For Go Eleven the goal will be to fight for the Top Ten, showing greater consistency towards the sessions, trying to carry out the speed shown so far. For sure, however, this is one of the worst tracks for a rookie, difficult to understand, and it is also one of the most complicated tracks for the Ducati V4-R of the whole calendar; the latter has never won between the turns of Donington Park. In recent weeks Philipp has been able to return to training regularly, regaining confidence in his right shoulder, as well as being able to return to riding a motorcycle, both cross and on track. Physically he is back almost at 100%, but from tomorrow we will see what our level will be, here, across the Channel, where you can breathe the history of WorldSBK!
Here are the times to follow Round 05:
TV SCHEDULE:
Friday 15-07-2022:
h 10.30-11.15, Superbike, Free Practice 1
h 11.25-12.10, Supersport, Free Practice 1
h 15.00-15.45, Superbike, Free Practice 2
h 16.00-16.45, Supersport, Free Practice 2
Saturday 16-07-2022:
h 9.00-9.30, Superbike, Free Practice 3
h 10.25-10.45, Supersport, Superpole
h 11.10-11.25, Superbike, Superpole
h 14.00, Superbike, Race 1
h 15.15, Supersport, Race 1
Sunday 17-07-2022:
h 9.00-9.15, Superbike, Warm up
h 9.25-9.40, Supersport, Warm up
h 11.00, Superbike, Superpole Race
h 12.30, Supersport, Race 2
h 14.00, Superbike, Race 2
Philipp Oettl (Rider): 
It will be an interesting weekend! The weather will be stable, it will help us because Donington is a new track for me and with dry conditions I can set-up the bike in a better way. I want to learn the track very well, probably tomorrow we will do some long runs. I am happy to be back after Misano, it was a long time ago, my shoulder is now in a way better shape than before. So, I am quite optimistic, but I don't have a goal, cause I just want to make a good job and have fun!"