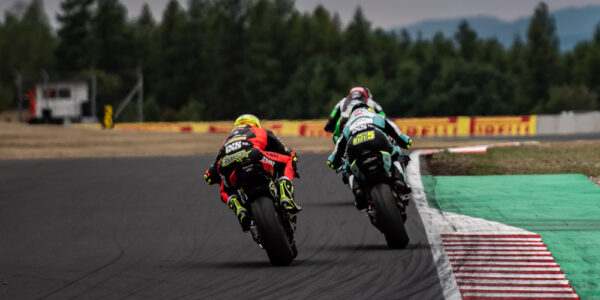 RAIN CONDITIONS SATURDAY AT MOST; PHILIPP COMES BACK SHOWING A GOOD PACE AFTER A TOUGH QUALY!
A really complicated "tricky" Saturday in Most! Weather conditions affected performance on the track, often forcing riders to trust the nearly dry asphalt despite light rain. Philipp, after starting the day showing a great pace on a wet track, was unable to exploit his potential in Superpole, complaining that the set-up was still not perfect. In the race then, after a straight into turn 1, he came back up to finish thirteenth in a good race, proving to be confident and fast in the wettest laps.
FP 3 took place on wet asphalt with some dry lines, especially in the second sector. All in with the Rain, however, to gain confidence in view of Superpole and Race 1. Philipp was really comfortable in mixed conditions, improving lap by lap and finishing in fourth place. A clear step forward compared to the last time in the wet, in the Barcelona tests, where he lacked a bit of feeling.
Free Practice 3:
P 1   A. Bautista    1.46.090
P 2   A. Bassani   + 0.852
P 3   I. Lecuona   + 1.353
P 4   P. Oettl   + 2.038
In Superpole the German rider was unable to get a good placement, due to a difficult bike to ride, still not significantly improved compared to the problems he complained about after FP. Even the most complicated sessions are sometimes needed; for the race an important change of set-up would have been needed, to help him in riding for 22 laps. Sixteenth position on the grid, as often happens, starting this way back complicates the whole race, especially here in Most where the first corner is very slow and contacts could always happen.
Superpole:
P 1   J. Rea   1.30.947
P 2   T. Razgatlioglu   + 0.330
P 3   M. Rinaldi   + 0.559
…
P 16   P. Oettl    + 1.554
For the race, the Team, in agreement with the rider, decided to make an important change on the set-up, working on heights and geometries, which would have generated a different feeling than the way taken up to here. At the first corner Philipp is forced to cut the chicane, tight on the outside, then re-enters a position similar to the one he started from. In the first two laps he proves to be very aggressive, immediately recovering three positions, and putting himself in pursuit of Bernardi and Mahias. Towards the middle of the race it begins to rain, wetting the track a little, but not so much as to require a change to rain tyres. Precisely with wet asphalt, the number 5 sets two very fast laps, being one of the three fastest rider on the track, but also making a mistake at Turn 6 which forces him to take an excursion on the gravel. Back on track, he recovers Bernardi, passes him, finishing behind Mahias. Thirteenth position, a decent result compared to qualifying, but more importantly, Oettl got off the bike happy with the sensations found on the track. For tomorrow it will be necessary to take a small step to remove a few tenths, then it will be possible to fight for the Top Ten.
Race 1:
P 1   A. Bautista   34'00.965
P 2   T. Razgatlioglu   + 2.109
P 3   S. Redding   + 2.603
…
P 13   P. Oettl    + 27.364
With today's victory, signed by Alvaro Bautista, Ducati took the podium number one thousand in WorldSBK. Congratulations to the entire Ducati racing department for the achievement, no other manufacturer is at the same level in Superbike, and Go Eleven is proud to have contributed to you with six podiums in the last three years!
Sunday Schedule:
WUP: 9.00 – 9.15
SP Race: 11.00
Race 2: 14.00
Philipp Oettl (Rider): 
"I am happy cause we made a big improvement with the bike in the Race. Now we have to adapt a bit the electronic, but I think we can solve for tomorrow races. This morning in qualifying I was not happy with my Ducati, as the bike didn't change from yesterday, but then we went in the right direction. The position is not so bad, but tomorrow we can do better!"
Denis Sacchetti (Team Manager):
"We knew it would be a complicated race because after qualifying we had some problems that didn't allow us to be fast, but I'm very happy with the team's work because they had the courage to take risks by going to the race with a completely different setting, and this choice has paid, he also showed us the right path for tomorrow. Now we continue to work aiming for the Top Ten in tomorrow's race!"