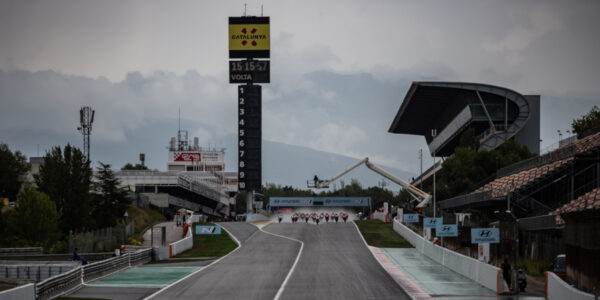 BARCELONA, MONTMELO'; CATALUNYA WELCOMES ROUND 08 WORLDSBK!
Two weeks after the sparkling challenge on the Magny-Cours track, WorldSBK moves to Catalan soil, giving life to the eighth Round of the 2022 season, the penultimate European stage.
At Montmelò, the historic track on the outskirts of Barcelona, ​​the WorldSBK races from 2020, always offering great challenges, uncertain weekends marked above all by the rain. The forecasts for the next few days seem rather unstable, especially on Friday and Saturday, when intense thunderstorms are expected. The tarmac of the Circuit de Barcelona is very particular, generally offering little grip in the dry, but being quite aggressive with the tyres. The correct tuning of the bike and the set-up, here, will be even more decisive; as often happens on weekends with tough weather, the risk is to have little time to find the right geometries. Philipp Oettl comes here with good results in France, always fighting for the Top Ten, almost missed in Race 2 due to a small problem at the front; Montmelò is a track that is well suited to the characteristics of the German rider, so much so that in Supersport he has achieved a podium in past editions. Barcelona is one of the test tracks, on which in winter he rode in both dry and wet conditions, which should facilitate the learning path of rookie number 5.
Below are the times to follow Round 08, Montmelò;
Friday 23-09-2022:
h 9.45-10.15, Supersport 300, Free Practice 1
h 10.30-11.15, Superbike, Free Practice 1
h 11.25-12.10, Supersport, Free Practic 1
h 14.15-14.45, Supersport 300, Free Practice 2
h 15.00-15.45, Superbike, Free Practice 2, 
h 16.00-16.45, Supersport, Free Practice 2
Saturday 24-09-2022:
h 9.00-9.30, Superbike, Free Practice 3
h 9.45-10.05, Supersport 300, Superpole
h 10.25-10.45, Supersport, Superpole
h 11.10-11.25, Superbike, Superpole
h 12.40, Supersport 300, Race 1
h 14.00, Superbike, Race 1
h 15.15, Supersport, Race 1
Sunday 25-09-2022:
h 9.00-9.15, Superbike, Warm up
h 9.25-9.40, Supersport, Warm up
h 9.50-10.05, Supersport 300, Warm up
h 11.00, Superbike, Superpole Race
h 12.30, Supersport, Race 2
h 14.00, Superbike, Race 2, 
h 15.15, Supersport 300, Race 2
Philipp Oettl (Rider): 
"I am really excited to Race here in Barcelona, I like the track and we had the opportunity to test here through the winter. I want to continue the way we worked in Magny-Cours, I think it was the right one, we had a good weekend there. Let's see what the weather will do, it seems rain should come in the next days, but we have to be ready in any condition!"