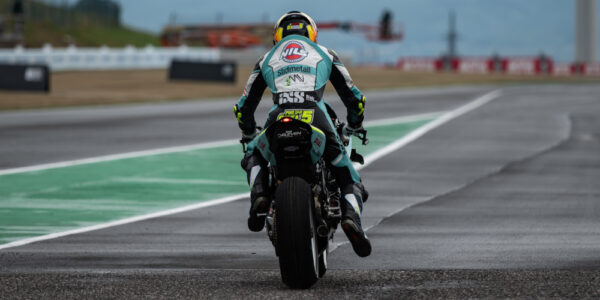 WORLDSBK IS HALF WAY; IT RESTARTS FROM MAGNY-COURS, ROUND 07!
Magny-Cours, France, a historic circuit with a rich and glorious past; the WorldSBK restarts after a long summer break in view of an intense second half to be experienced! Here, in recent years, the show has never failed: full stands, battles on the track, weather conditions that are always "precarious" and plot twists.
For Philipp Oettl it will be an absolute first time riding a 1000cc motorcycle; the FP 1, if dry, will be essential to take the measurements of the track, especially the fearsome Adelaide turn, first gear hairpin, the slowest point of the entire calendar. Moreover, this weekend Pirelli brought a new rear tyre solution, an evolution of the SCX, and a softer front tyre, which will be evaluated in free practice sessions, both having never been used in a race weekend. After Most, the SCQ, the compound designed for qualifying, also returns to Magny-Cours. The weather, however, will play a fundamental role over the three days; forecasts predict instability especially on Friday and Saturday. It will be of fundamental importance to make the most of each session, especially for rookies, because conditions could change quickly.
Here are all the times to not miss the action from WorldSBK Round 07:
Friday 09-09-2022:
h 9.45-10.15, Supersport 300, Prove libere 1
h 10.30-11.15, Superbike, Prove libere 1, 
h 11.25-12.10, Supersport, Prove libere 1
h 14.15-14.45, Supersport 300, Prove libere 2
h 15.00-15.45, Superbike, Prove libere 2, 
h 16.00-16.45, Supersport, Prove libere 2
Saturday 10-09-2022:
h 9.00-9.30, Superbike, Prove libere 3
h 9.45-10.05, Supersport 300, Superpole,
h 10.25-10.45, Supersport, Superpole,
h 11.10-11.25, Superbike, Superpole, 
h 12.40, Supersport 300, Gara 1,
h 14.00, Superbike, Gara 1,
h 15.15, Supersport, Gara 1,
Sunday 11-09-2022:
h 9.00-9.15, Superbike, Warm up
h 9.25-9.40, Supersport, Warm up
h 9.50-10.05, Supersport 300, Warm up
h 11.00, Superbike, Superpole Race,
h 12.30, Supersport, Gara 2,
h 14.00, Superbike, Gara 2, 
h 15.15, Supersport 300, Gara 2,
Philipp Oettl (Rider): 
"I am optimistic for this weekend! This summer I had time to train a lot, both on bike and out of the bike. Here in Magny-Cours, We will need to find the right set-up, Friday and Saturday morning we need to focus on ourselves to be ready for the Qualifying, which I think it's really important. I think the weather will be quite changeable, so we have to be ready for every condition. I am extremely happy to be back on the WorldSBK after such a long break. I missed my guys this summer!"