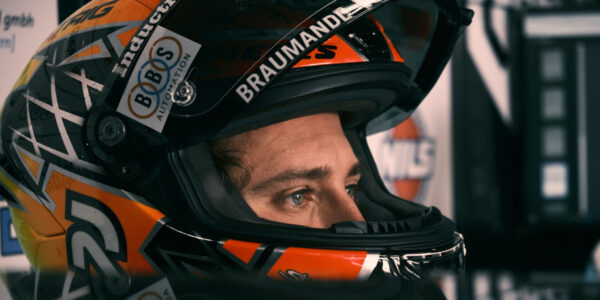 FROM MID-RACE ON…PHYSICAL AND SET-UP SUFFERING!
A really difficult day for Team Go Eleven and Philipp Oettl among the Argentine turns of the El Villicum circuit. After an under expectation qualifying, Race 1 was good for the first ten laps, but the he suffered a physical problem, which combined with a not yet perfect set-up, forced the German rider to lose several positions.
Saturday opened with much lower temperatures, around ten degrees of air, slightly changing the asphalt conditions. Philipp immediately showed a good step forward, improving the Friday reference with used tyres. At the end, then, he attempted a time attack, with the SCQ, going down to the low 38 and positioning himself close to the top ten.
Free Practice 3:
P 1   T. Razgatlioglu   1.37.216
P 2   A. Bautista   + 0.030
P 3   A. Lowes   + 0.201
…
P 11   P. Oettl   + 1.044
Superpole, for Philipp Oettl, was a negative turn, where the number 5 rookie was quite fast in almost all sectors, but never managed to complete a complete good lap. Unfortunately, with all the riders very close, losing even a few tenths means starting from the back. Seventeenth position, which, with the three penalties, means starting from the twentieth in Race 1. The pace, however, was not bad in the long runs performed, so there could be room for a strong comeback.
Superpole:
P 1   T. Razgatlioglu   1.36.216
P 2   J. Rea  + 0.233
P 3   A. Bautista   + 0.455
…
P 17   P. Oettl   + 1.933
In Race 1 Philipp starts well, manages to get back a couple of positions immediately, and in the first laps he proves to be challenging and fast. He overtakes Gerloff, Laverty, Fores and Nozane, launching himself in pursuit of the Top Ten. Towards the seventh / eighth lap, however, Philipp begins to accuse a physical problem in his left arm, which slowly leads him to lose strength. In the last ten laps he struggles even to stop the bike, and adding the drop of the rear tire, forces the German rider to lose positions without weapons to defend himself with.
Race 1:
P 1   A. Bautista   34'18.304
P 2   J. Rea   + 5.141
P 3   A. Bassani   + 6.689
…
P 17   P. Oettl   + 44.885
Unfortunately today was a real day to forget, one of those from which very little can be saved; however, the speed to fight near the Top Ten is there, and for tomorrow it will be essential to find a solution so that the left side is less stressed. Already today the technicians are evaluating some solutions, especially regarding the rider's seat and the position of the handlebars.
Sunday Schedule (local time / Italian time):
Warm Up: 10.00 – 10.15 / 15.00 – 15.15
SP Race: 12.00 / 17.00
Race 2: 15.00 / 20.00
Philipp Oettl (Rider):
"Today I am really not happy! FP 3 was fine, but then in Qualifying we couldn't do a very fast lap. In the Race, the grid penalty didn't help us, but I had a good start, I managed to fight with some riders and come back until P 13. I felt better on the bike, but the package in the second part of the Race wasn't so good as I expected, and me too I had some physical problem. I lost a lot of positions, I couldn't defend my result. I think we can only do better in the next races!"
Denis Sacchetti (Team Manager):
"Today was a really difficult day for us. Here in San Juan, we are struggling to find the right configuration on the bike, especially in the hottest sessions. The Superpole, unfortunately, did not give the desired result, and in the Race Philipp started strong, trying to close the gap with the top ten, looking comfortable in the first laps. From the middle of the race he suffered with his left arm, but also our configuration was not the best possible. From here we can only improve and work; tomorrow morning we will see if the new position will help him in riding and from there we will try to bring home a good result!"
SATURDAY PICS: CLICK HERE