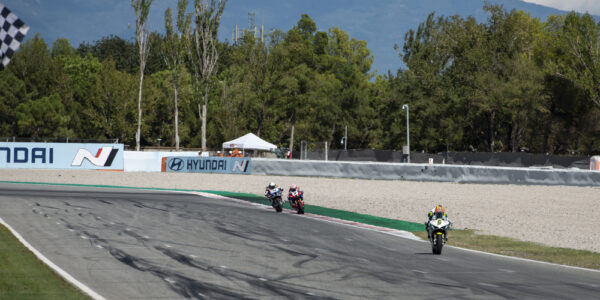 THE WORLDSBK CIRCUS RIDES THE PORTIMAO ROLLERCOASTER!
Portimao, the Algarve rollercoaster welcomes WorldSBK; one of the most spectacular tracks in the world, ups and downs, blind turns and even a hill that, sometimes, makes bike jumping …. the Portuguese track always offers unique and special emotions.
The weather seems almost perfect all the weekend; warm, sun and little wind, the latter an important variable that often conditions the races at the Autodromo International Do Algarve. Team Go Eleven and Philipp Oettl, come to the last European Round with an important streak of results; from Most to Barcelona, ​​the Ducati number 5 has always hit the Top Ten, obtaining the best weekend of the season in Catalunya, crowned by sixth place in the Superpole Race. Here in Portimao, moreover, Philipp took part in the first winter test with the V4-R, immediately finding a good feeling and excellent harmony with the bike and the team. Obviously the conditions, now, are different compared to February, so it will be essential to find a good set-up for the race. The goal for Team Go Eleven will be to continue the positive streak of results by fighting in the Top Ten, to end the rounds in the Old Continent in the best possible way, before sending all the material overseas.
Here you are the schedule of Round 09, Portimao:Friday 07-10-2022 (all times Local Time, GMT+1)
09:45-10:15 – WorldSSP300 Free Practice 1
10:30-11:15 – WorldSBK Free Practice 1
11:25-12:10 – WorldSSP Free Practice 1
14:15-14:45 – WorldSSP300 Free Practice 2
15:00-15:45 – WorldSBK Free Practice 2
16:00-16:45 – WorldSSP Free Practice 2
Saturday 08-10-2022 (all times Local Time, GMT+1)
09:00-09:30 – WorldSBK Free Practice 3
09:45-10:05 – WorldSSP300 Tissot Superpole
10:25-10:45 – WorldSSP Tissot Superpole
11:10-11:25 – WorldSBK Tissot Superpole
12:40 – WorldSSP300 Race 1
14.00 – WorldSBK Race 1 
15:15 – WorldSSP Race 1
Sunday 09-10-2022 (all times Local Time, GMT+1)
09:00-09:15 – WorldSBK Warm Up
09:25-09:40 – WorldSSP Warm Up
09:50-10:05 – WorldSSP300 Warm Up
11:00 – WorldSBK Tissot Superpole Race 
12:30 – WorldSSP Race 2
14:00 – WorldSBK Race 2
15:15 – WorldSSP300 Race 2
Philipp Oettl (Rider):
"Portimao is a very difficult, but spectacular track! We had a test already here in the winter, that was my first time on a Ducati. More or less I know what to expect from my bike on this track. I want to continue the way we are working since Magny-Cours, I think I made a good step forward. For tomorrow my goal is to find a good set-up for the races, I think here tyre management will be important, too. Portimao is a very challenging track, the elevation changes are quite difficult to face and it require lot of body energy, but I can't wait to start the Practices!"