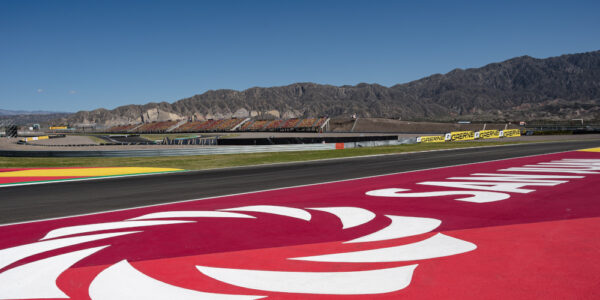 WORLDSBK DISEMBARKS OVERSEA, ARGENTINA WELCOMES THE FINAL RUSH!
The first overseas Round, WorldSBK final rush starts from the very recent circuit in San Juan, El Villicum, Argentina!
WorldSBK lands in South America, at the foot of the Andes, in a suggestive and particular location that always gives great warmth to the protagonists on the track. San Juan circuit has been on the calendar since 2018, now representing one of the Main Stage of the season, location of great fights in front of a usually large and caliente spectators. Philipp Oettl and Team Go Eleven comes at the third to last Round of the 2022 season in a good shape of results and performances; after the best weekend of the season in Barcelona, ​​in Portimao the German rider was unable to reach the Top Ten, but he has always proved to be fast and competitive, coming close to it in all races. Here in Argentina, the rookie number 5 will first have to become familiar with the lines and trajectories on the Ducati V4-RS. The track is a perfect and fun mix of turns, there are 17  turns, straights, one of which is quite long and theatre of overtakings, and changes of direction. The layout is one of the most complete of the entire calendar, technical and fast at the same time. The determining factor will be the conditions of the asphalt; on this track there are few events per year, and in the first sessions it is always very dirty and difficult to get it ready to push.
The following are the times to follow Round 10, El Villicum, Argentina (local times, GMT – 3):Friday 21-10-2022:
h 10.30-11.15, Superbike, Free Practice 1,
h 11.25-12.10, Supersport, Free Practice 1
h 15.00-15.45, Superbike, Free Practice 2, 
h 16.00-16.45, Supersport, Free Practice 2
Saturday 22-10-2022:
h 10.00-10.30, Superbike, Free Practice 3
h 11.25-11.45, Supersport, Superpole,
h 12.10-12.25, Superbike, Superpole,
h 13.30, Supersport, Race 1,
h 15.00, Superbike, Race 1, 
Sunday 23-10-2022:
h 10.00-10.15, Superbike, Warm up
h 10.25-10.40, Supersport, Warm up
h 12.00, Superbike, Superpole Race,
h 13.30, Supersport, Gara 2, live
h 15.00, Superbike, Gara 2, live
Philipp Oettl (Rider):
"It's the first time in Argentina with the Superbike, but I am confident that we can have a good race weekend. As from the summer break on, I want to continue in the same working direction of the last three races. I will see session after session what happens, and how I feel on the bike. I will have to learn a bit the track again with the Superbike, the would be a bit different compared to the smaller bikes. Here free practices will be really important, but I expect to be in line with my last results and to fight for important positions!"